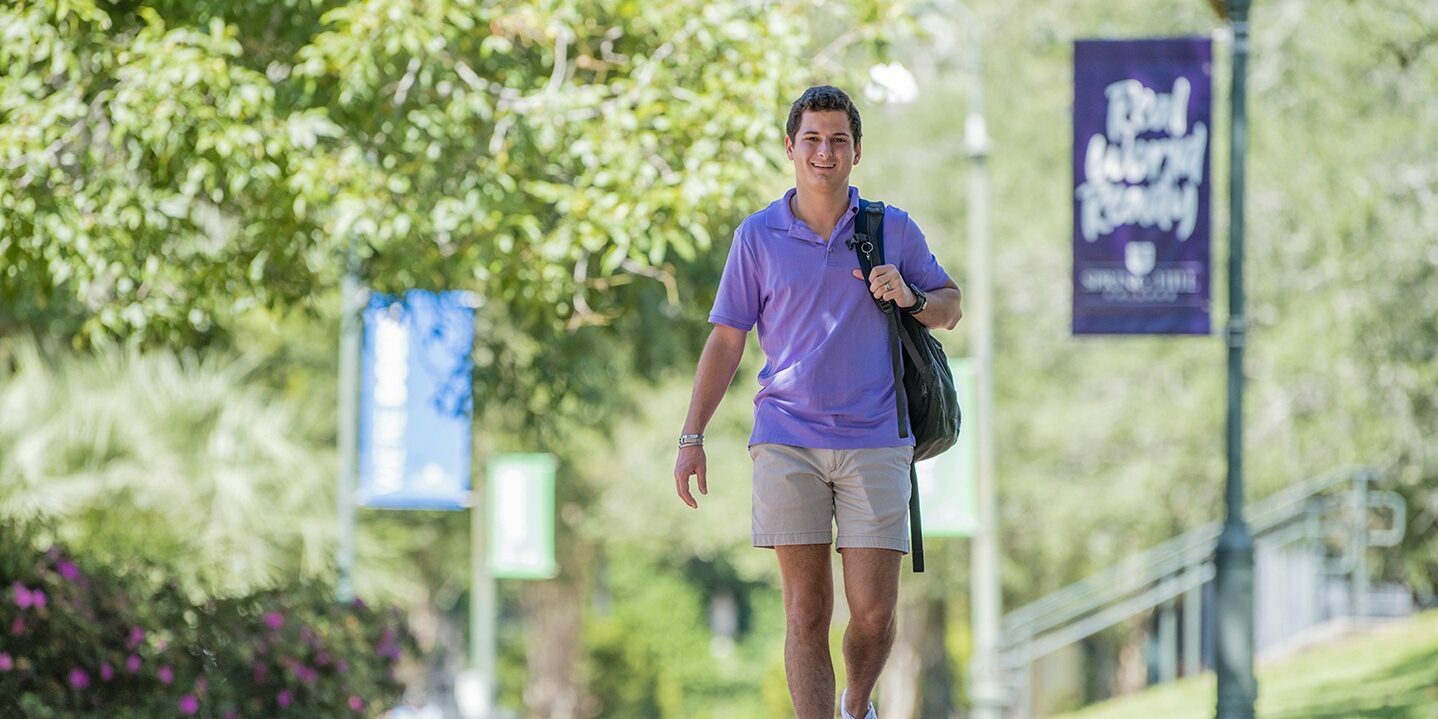 "There is a true connection between students and professors that only allows for a more enriching educational experience."
Clay LeBlanc, a junior majoring in Biology and Pre-Health, shared his thoughts about life on The Hill. From the college tour that allowed him to "follow his heart" to knowing practically everyone on campus, Clay's story lends real-life meaning to his Real World Ready Spring Hill College experience.
What influenced your decision to come to Spring Hill College?
Funny enough, my mother! I had always known I wanted to go to a small faith-based institution, and Spring Hill was just that! She spoke with friends who attended and they told her what an amazing place it was and how I would flourish here. As we did our college tours the summer going into senior year, we had stopped at many colleges, and she planned for our Spring Hill visit to be last. (I think this may have been on purpose!)
How did Spring Hill finally become your choice?
When I got home and as I applied to many places, Spring Hill being the last place I visited, sat clear in my mind. I thought about it every day. As the enrollment date came close, a decision had to be made. She told me to follow my heart and go where I think I belong. Two weeks before the deadline, I enrolled at Spring Hill. I haven't looked back since. I guess you can say a mother always knows best!
How has Spring Hill College prepared you for the real world?
Spring Hill has taught me responsibility, time management, and that hard work pays off. Through the many academic courses, especially in my major, I have learned the importance of working hard and giving it my all in order to obtain much more than grades, but needed knowledge for my career. Spring Hill has truly taught me how to be "Real World Ready". I've learned about love, faith, justice, and service for all. These four principles have been expressed to me over the past three years and have taught me more than words can explain. I am more than prepared for the real world.
Any advice for new students on how to get the most out of their Spring Hill education experience?
Set yourself up for success starting your freshman year. It is much easier to start off with a solid base of studying habits, time management, and good grades your first year here because it sets a foundation for the next few years you have on the Hill. Starting off strong is much easier than having to "get yourself out of the hole" the closer you get to graduation. Also, don't forget to make many, many friends along the way, and memories that will last a lifetime! I know I sure have!
Tell us more about the value of the friendships you've made.
My social growth here on the campus has been exponential! I often say that I have never met a stranger, and here at Spring Hill, it is so true! I can walk around campus and say "Hey!" to everyone that passes by, likely because I know them! Spring Hill has so many events that draw the students together that allows us to make connections and friendships along the way. I truly love the social life on the campus.
One of the Jesuit values we are committed to is "cura personalis," that is, a care for the spiritual, social and intellectual growth of each person. How has this impacted you and why?
"Cura personalis" has impacted me to realize that there are many parts to a person; seen and unseen. We must care for the spiritual growth of a person, and here on the Hill, there are so many different retreats, mass times, and spiritual courses that are offered that I have taken full advantage of. I believe that these have allowed me to grow spiritually.
And your intellectual growth?
My intellectual growth has only been strengthened since arriving on the Hill. I have been in classes that have helped me expand my knowledge, as well as my thought process. The education and curriculum that is offered here is better than any other institution I have toured. There is a true connection between students and professors that only allows for a more enriching educational experience.