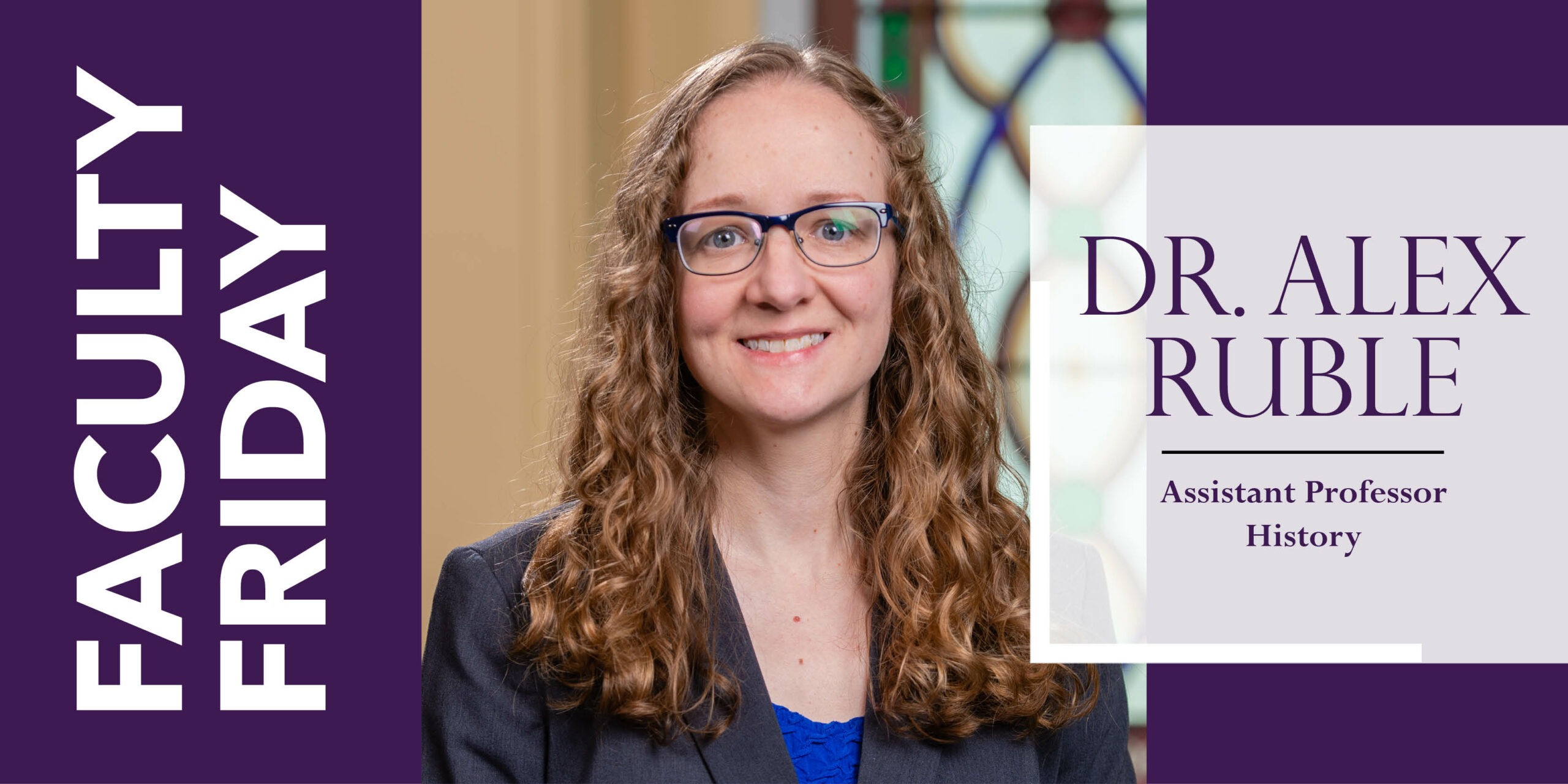 Welcome to Faculty Friday, where we spotlight faculty around Spring Hill College to learn a little more about them, their work and their story. This week, we catch up with Alexandria N. Ruble, Ph.D., an assistant professor of history.
Dr. Ruble is a 2021-2022 American Association of University Women American Postdoctoral Research Leave Fellow. The fellowship aims to increase the number of women in tenure-track faculty positions and to promote equity for women in higher education.
What class subject(s) do you teach?
I am an expert in and teach modern European history, modern German history, global history and gender history. My typical courses at SHC include The History of the Holocaust, Global Cold War, Europe since 1945, and Europe in the Era of the World Wars.
What would you say attracted you to the field of teaching?
My own transformative experiences as a student drew me to teaching, especially at the college level.
I have always loved history and social studies. I had originally considered teaching history in a high school or a museum. In fact, I worked in the education department of a museum when I was in college and got to give tours and teach classes, and found that I was really good at it and enjoyed it. So I think I knew teaching of some kind was in my future.
What really drew me into teaching at the college level was learning how to do research. This was the missing puzzle piece, and something I didn't really get to do as a high school student. I had excellent professors who showed me how to ask the right questions, read primary sources critically and create my own narrative. It was also really cool to see them practice the "scholar-teacher" model, where they brought their own research into the classroom as examples.
I found this process empowering, and I knew I wanted to provide the same experiences to students like myself. It's really rewarding to see students become agents in their own education, and I am thrilled that I get to facilitate that process for them.
What appealed to you about teaching specifically at Spring Hill College?
I attended a liberal arts university – Christopher Newport University in Newport News, Va. – for undergrad. I have always enjoyed the small college experience where faculty know all their students (and even students they've never had in class!), and students get to learn directly from the faculty experts, so that was appealing.
One of the things that drew me to Spring Hill was its history and mission, specifically "the demands of justice" and the "informed dialogue" with other cultures of the world. I was really impressed with the school's history of social justice, desegregation and antiracism. Hearing that Martin Luther King Jr. cited Spring Hill in his "Letter from Birmingham Jail" was exciting.
So I thought Spring Hill was a place that fit my goals as a scholar and educator because one of the things I show in my scholarship and teaching is how historical inequities have been constructed, affected people's lives, and continue to shape our present.
What's your favorite spot on campus?
Quinlan Hall. I know it may not be that exciting to a lot of people, but to me, it's where all the action happens! The classrooms are special to me because they are where I get to engage our incredible students every day.
I also love my office, where I get to grapple with big research questions (and grading papers). It's also the place where I get to have one-on-one meetings with students and get to know them and help them shape their college careers.
Plus, I have a bit of a Berlin motif, since I am a scholar of Germany. I spent close to two years and every summer (prior to COVID) living and researching in Berlin, so I really enjoy opening the door and coming into that space every day. It reminds me of one of my favorite cities.
The pandemic has greatly disrupted teaching and research. How have those challenges altered your approach as an educator?
Like many educators, I had to adapt fairly quickly to new methods of teaching, like teaching online or in a mask and socially distanced in the classroom. I think the biggest challenge facing most of us has been acknowledging mental health distress, both among students and other faculty/staff.
As an educator, I have been responding to these challenges by doing more with less. I have scaled back the amount of assignments I might usually give, for instance, or shifted more of that work to the classroom rather than out-of-class assignments so that students can really focus on what's in front of them. I have also scaled back content to give students more time to work on papers and research projects outside of class. I hope that this helps students continue to enjoy learning about the subject and gives them the flexibility they need to deal with family issues, illness, or other problems they are facing.
In terms of research, as a scholar of German history, the pandemic has posed enormous challenges, since I have been unable to travel to do archival research and most of the sources I use are not digitized.
What is your most prized possession and why?
As far as a material object, my black belt. I have been doing Shotokan karate for 22 years. My black belt represents more than just my achievements in karate; it represents my work ethic and my accomplishments in every area of my life. Karate has kept me grounded, mentally sane, and physically fit through all the toughest moments in my life.
Every time I win a prestigious fellowship, like I did this past year from the American Association of University Women, or have a great day teaching, it's because of the discipline and hard work karate has instilled in me. My black belt represents everything I have achieved and the future things I am striving to obtain.
ABOUT SPRING HILL COLLEGE:
Founded in 1830, Spring Hill College is the oldest Catholic college in the Southeast and the third oldest Jesuit college in the United States. Spring Hill combines the Jesuit tradition of excellence in education and a commitment to caring for the whole person – mind, body, and spirit – with innovative educational experiences. Located in Mobile, Ala., Spring Hill's mission is to form leaders engaged in learning, faith, justice and service for life. As a result, Spring Hill students are engaged, inspired and transformed by their experiences.