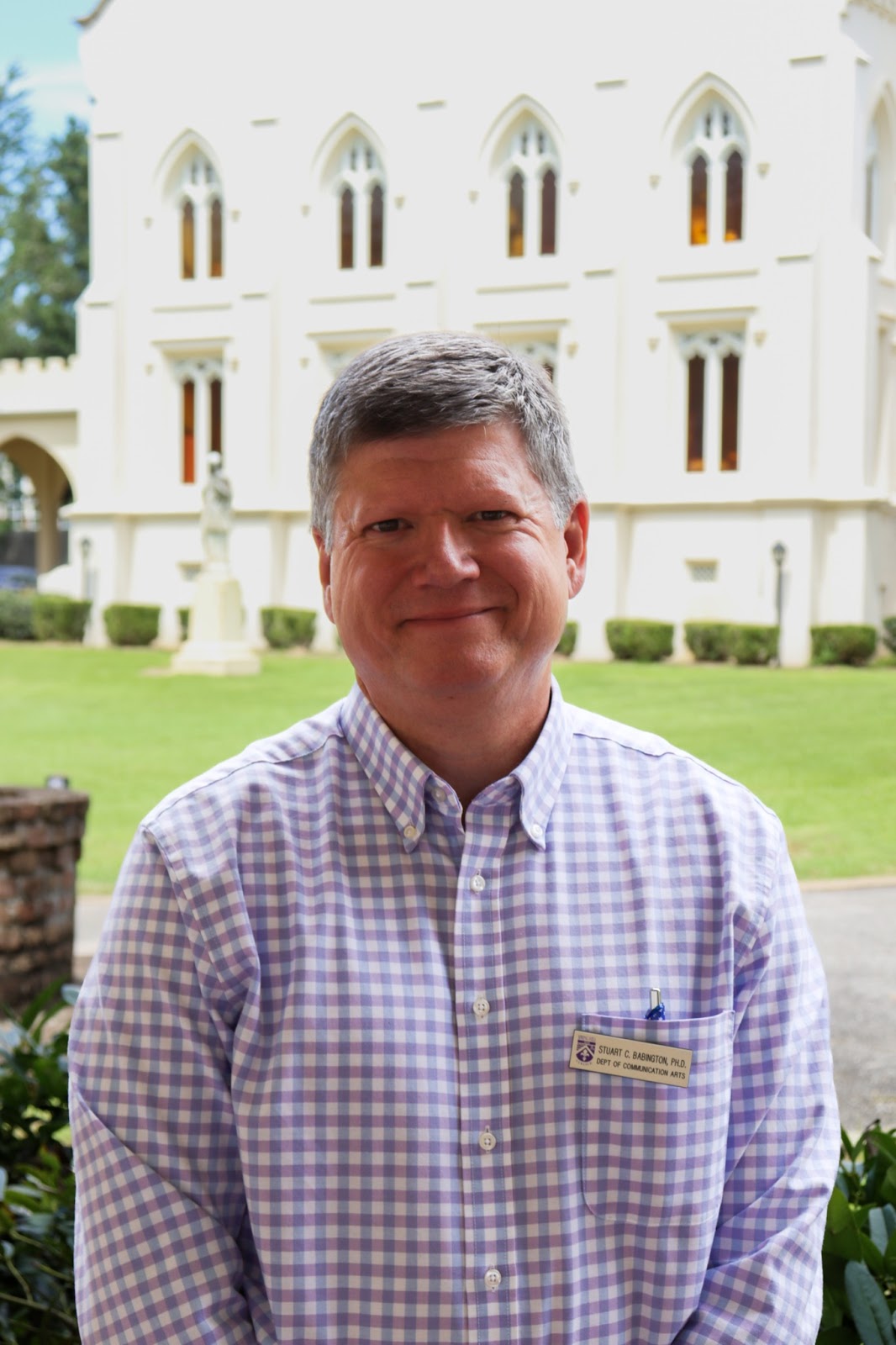 1. What class subjects do you teach?
I have the opportunity to teach students at the beginning of their college experience, and students who are near the end — everything from introductory classes like Media Studies and Media Writing to advanced classes like Communication Theory, Media Law and Ethics, and Senior Seminar. In the introductory classes, I get to meet students of all academic majors, and I enjoy helping them see how important effective communication will be for their future vocation. In the advanced classes, I mostly see Communication Arts students who by the time they graduate will have been a member of four to five of my classes. That gives me the chance to really get to know them and see their advancement.
2. What would you say attracted you to the field of teaching?
I was a sports reporter for 15 years, and one of my jobs as a senior reporter was to orientate new journalists. Somewhere along the line, I realized how rewarding it was to share effective communication strategies with others. So, in my 30s, I left for graduate school and was almost immediately allowed to teach an undergraduate class. One of my professors in college once told me that on my first day of leading a college class, I would either love it or run away and never return! I loved it on the first day and knew I had found my profession.
3. What appealed to you about teaching at Spring Hill College?
From the beginning of my graduate-school experience, I knew I wanted to teach at a faith-based institution. Shortly after Hurricane Katrina, while I was finishing up graduate school, one of my classmates (former SHC faculty member Dr. Sharee Broussard), told me about an opportunity at Spring Hill. I remembered back in high school how Spring Hill was one of my top choices for college. I immediately thought that I could indirectly fulfill that desire by teaching there. I've always thought it was providential to be at SHC.
4. What's your favorite spot on campus?
While I love the peaceful grounds throughout the campus, my favorite structure is the Murphy Fine Arts Building. It's a building rich with history, but one that has been refurbished in recent years. Along with original brick throughout, the building has great gallery spaces. And if you're there at the right time, you can hear students practicing piano.
5. What is your most prized possession?
I'm not a big possessions person. I most value my faith, my family, and a great group of friends. I've been married 33 years, and my wife and I have a daughter and son in their 20s who both live within an hour of us. We're so proud of both of them. In all, the family has two dogs and three cats, and they make life interesting. I'm also blessed to have the same best friends today that I had in high school — 40 years and counting! — and we often vacation together. And when I come to work each day, I have a rich assortment of interesting colleagues and students around me. So, I've been very blessed.
ABOUT SPRING HILL COLLEGE:
Founded in 1830, Spring Hill College is the oldest Catholic college in the Southeast and the third oldest Jesuit college in the United States. Spring Hill combines the Jesuit tradition of excellence in education and a commitment to caring for the whole person – mind, body, and spirit – with innovative educational experiences. Located in Mobile, Ala., Spring Hill's mission is to form leaders engaged in learning, faith, justice and service for life. As a result, Spring Hill students are engaged, inspired and transformed by their experiences.