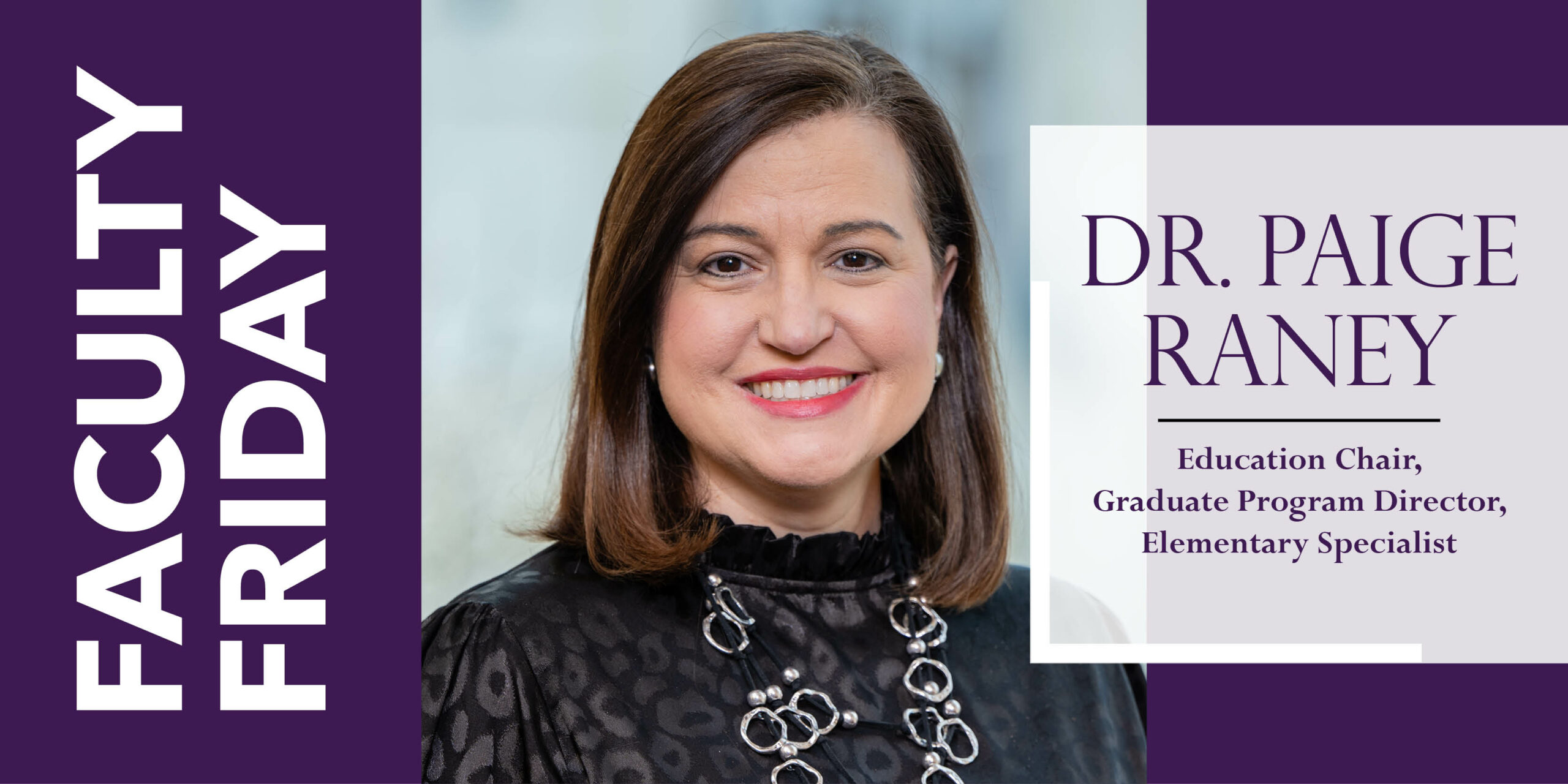 For this week's Faculty Friday, we catch up with Paige Raney, Ed.D., Chair of Spring Hill's Division of Education, Graduate Program Director and Elementary Specialist.
What class subjects do you teach?
I teach STEM classes and Fine Arts classes for Elementary Education: Science for Teachers, Math for Teachers, Art for Children and Music for Children. I also will teach a course soon in Current Curriculum Trends in Education. Over the course of the next year, we will be adding several graduate programs to the Division of Education, and I will teach several of those courses in upcoming semesters.
What would you say attracted you to the field of teaching?
Our mission statement in the Division of Education states: "We prepare students to become teachers who will educate, lead and serve. We offer students opportunities to learn at high levels during the classroom, laboratory and internship experiences. We enrich our community through partnerships focused on teaching and learning."
The field of teaching is one of the most time-honored professions in our world. I believe in and work to live out our division's mission statement. Teaching and learning are important processes to me and serve to improve the world in which we live. Student development is one of my priorities as Division Chair. Being a part of a student's growth academically, emotionally, spiritually and socially is very rewarding as a teacher. I am always and proudly a teacher.
What appealed to you about teaching at Spring Hill College?
My core values align with Spring Hill College's Jesuit tradition. Additionally, Spring Hill College's approach to education, cura personalis, resonates with me. I believe this tenet is borne out in all experiences at Spring Hill College for students, faculty and staff. These firm foundations create an excellent environment for teaching, learning, and serving. Also, I was searching for a place where I could teach while effectively using my administrative and leadership experiences from K-12 education. Spring Hill College was the perfect place for me to continue my educational career. It's also a bonus that my older son, Will Raney, lives in Mobile.
What's your favorite spot on campus?
My office is my favorite spot on campus! I love my view of the Spring Hill College campus, the exposed brick wall that reminds me of years of great traditions at our institution, and of course, as many have already discovered, my incredible work table. My office is such a great space for collaboration and the important work we do.
What is your most prized possession?
I have three prized possessions. First, I have a treasured portrait of my two sons, Will and Josh Raney, when they were much younger. They are my favorite two people on the planet. Second, I have two strands of pearls that commemorate the adoption of my sweet Chinese nieces, Mary and Lottie. Each strand of pearls was purchased during their adoption trips, and I wear each one in honor of their bravery and love. Being Aunt Paige is one of my most important jobs!
ABOUT SPRING HILL COLLEGE:
Founded in 1830, Spring Hill College is the oldest Catholic college in the Southeast and the third oldest Jesuit college in the United States. Spring Hill combines the Jesuit tradition of excellence in education and a commitment to caring for the whole person – mind, body, and spirit – with innovative educational experiences. Located in Mobile, Ala., Spring Hill's mission is to form leaders engaged in learning, faith, justice and service for life. As a result, Spring Hill students are engaged, inspired and transformed by their experiences.