Rev. Gregory Francis Lucey, S.J., was called to eternal life on Thursday, September 30, 2021, at the St. Camillus Jesuit Community in Wauwatosa, Wisconsin. He was 88 years old, a Jesuit for 70 years, and a priest for 57 years.
Greg was born in Ferryville, Wisconsin, on January 21, 1933, and baptized at St. James Church in Rising Sun, Wisconsin, on February 12. He was raised in a large Irish Catholic family, where faith and public service were pillars for him and his siblings, including his brother, former Wisconsin Governor Patrick Lucey. He attended Ferryville Grade School and then Campion High School in Prairie de Chien, Wisconsin, graduating in 1951. 
He entered the Society of Jesus at St. Stanislaus Seminary in Florissant, Missouri, on August 8, 1951, as a member of the Missouri Province. His second year of novitiate was spent at the newly-opened Jesuit Novitiate in Oshkosh, Wisconsin, and he pronounced his first vows there on August 15, 1953. He then returned to Florissant for his two years of Juniorate studies and proceeded to three years of philosophy in St. Louis 1955-58. He earned a B.A. from Saint Louis University in 1957, as well as a Ph.L. and an M.A. in Education in 1958. Meanwhile, in 1955 the Wisconsin Province was separated from the Missouri Province, and Greg became a member of the new Province. 
In 1958, Greg was assigned for regency to his alma mater, Campion High School in Prairie du Chien, where he taught for three years. In 1961, he returned to the Missouri Province to study Theology at St. Mary's Kansas, being ordained to the priesthood on June 16, 1964 at the Gesu Church in Milwaukee, Wisconsin. He did tertianship at St. Joseph's Hall in Decatur, Illinois 1965-66 and made his final profession of vows at the Jesuit Novitiate in St. Paul, Minnesota on May 6, 1989.
Between 1965 and 1968, Greg studied Liturgy at the University of Notre Dame in Indiana and was awarded an M.A. in 1968.  He was also giving high school retreats at the Jesuit College in  St. Bonifacius, Minnesota. In 1968, he returned to Campion in Prairie du Chien as a retreat director, then as Principal, and finally as President. Greg returned to graduate studies at the University of Wisconsin-Madison, earning his Ph.D. in Education-Administration in 1978. From 1978 to 1988, Greg worked in the Oregon Province at Seattle University as Vice President for Planning and then Vice President for University Relations. After a one-year sabbatical, he was appointed rector of Marquette University in Milwaukee and served in that position from 1989-1994.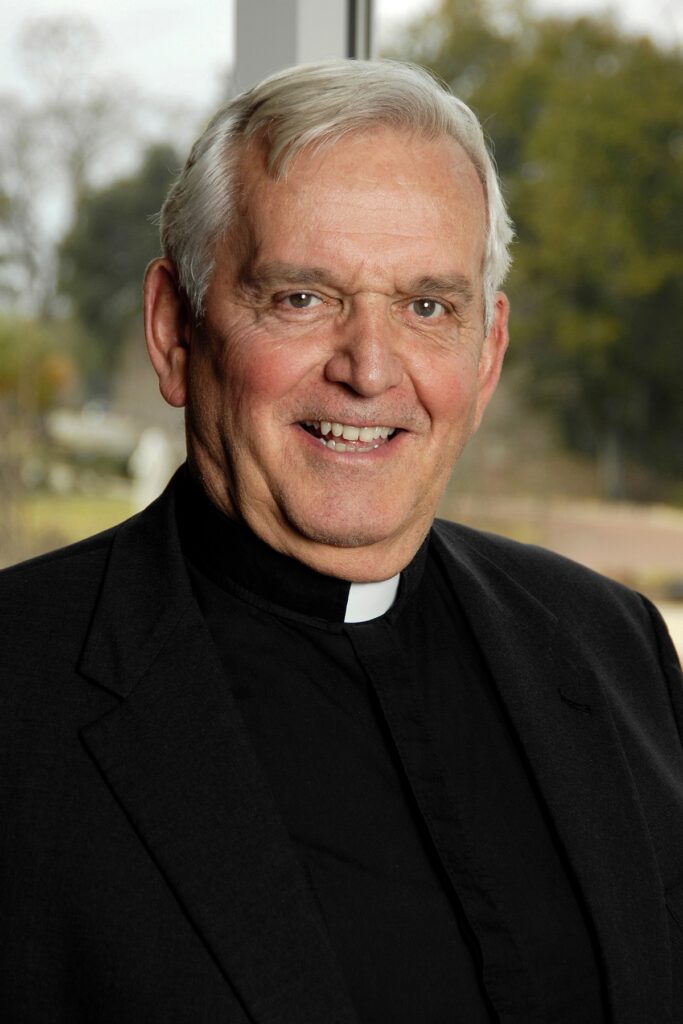 Greg moved to the national stage in 1994 when he was appointed the President of the Jesuit Conference in Washington, D.C. He spent three years in that position, and then after a short sabbatical, went south to  Mobile, Alabama, where he took over the presidency of Spring Hill College in 1997. Even though he was a Midwesterner, Greg found a second home in Mobile. He was inaugurated as the 34th President of Spring Hill College on October 25, 1997, when the "Vision for the College on the Hill" was created. 
During his presidency, Greg revitalized Spring Hill with restorations and developments throughout campus. Six new buildings – Nan Altmayer Place, Skip's Place, and Marnie and John Burke Memorial Library, and three residence halls – were built, and renovations of 12 existing buildings and the athletic fields were completed. He led the efforts to restore St. Joseph Chapel, which was built in 1910,  as the spiritual heart of campus and the beautiful grounds surrounding Rydex Commons. In 2005, he received the Civitan Club of Mobile's "Mobilian of the Year" Award for his improvements to Spring Hill's campus and his efforts to incorporate the Mobile community. In 2008, The Rev. Gregory F. Lucey, S.J. Administration Center was renovated and named in honor of Fr. Lucey's leadership, vision, and contributions to Spring Hill College. 
Greg did not just transform the physical face of Spring Hill College he also helped increase undergraduate enrollment and created new academic initiatives. He continued to form deep relationships with students, faculty, staff, alumni, and members of the surrounding Spring Hill community through his Ignatian seminars, Lenten retreats, Wisdom groups for seniors, and commitment to the Spring Hill College Mission and Identity. He remained at Spring Hill until 2009.
After a one-year sabbatical at the Oblate School of Theology in San Antonio, Texas, Greg returned briefly to Spring Hill but was called back to Washington, D.C., to be President of the Association of Jesuit Colleges and Universities 2011-13. He then returned to Spring Hill to be Chancellor, then Interim President from December 2013 until 2015, then Chancellor and Chancellor Emeritus.
In 2020, he was missioned to the Marquette University Jesuit Community, where he did pastoral ministry until recently when a cancer diagnosis necessitated his move to St. Camillus. Greg was a big man with a big personality, a big voice, and a big laugh. He attracted friends naturally and found people to help him and the institutions he was serving. Campion, Marquette, and Spring Hill were three of his favorite places. He was a masterful storyteller, appreciated a good sense of humor, and could be heard a mile away by his deep hearty laugh.
As a man from Wisconsin who joined the Missouri Province, he became part of the new Wisconsin Province, transcribed to the New Orleans Province in 2009. While he was at Spring Hill, he became part of UCS (US Central & Southern Province) when New Orleans and Missouri joined. Then he retired to the Wisconsin Province and will find his resting place in Mobile. He also had two national assignments in Washington, D.C. Greg was truly ready to be sent wherever the greater glory of God would be served.
Greg asked to be cremated. The St. Camillus Jesuit Community will celebrate a prayer vigil for Greg on Thursday, October 14 at 4:15 p.m. There will be a Funeral Mass at the Gesu Church in Milwaukee on Friday, October 15 at 10:00 a.m. with a reception following. There will be a memorial Mass in St. Joseph's Chapel on the campus of Spring Hill on Tuesday, October 12. Visitation will be from 9:30 to 11:00 a.m. with the Mass at 11:00 a.m. and a small reception to follow. His remains will then be sent to Mobile for interment at Spring Hill College Cemetery at a later date, as he requested.
Greg was preceded in death by his parents, Gregory and Ella McNamara Lucey, his brothers, Patrick and Rev. J. Roger Lucey, S.J., and his sisters, Verona Dyer, Eleanor Watson, and Sister Mary Eleanor, O.P. He is survived by his sister, Kathleen Keegan, and many nieces and nephews.
Notes of condolence may be sent to:
Mrs. Kathleen Keegan
San Camillo, Unit 716
10200 W. Bluemound Rd.
Wauwatosa, WI 53226
We remember with gratitude all that God has done through Greg's life of service to God and God's people.