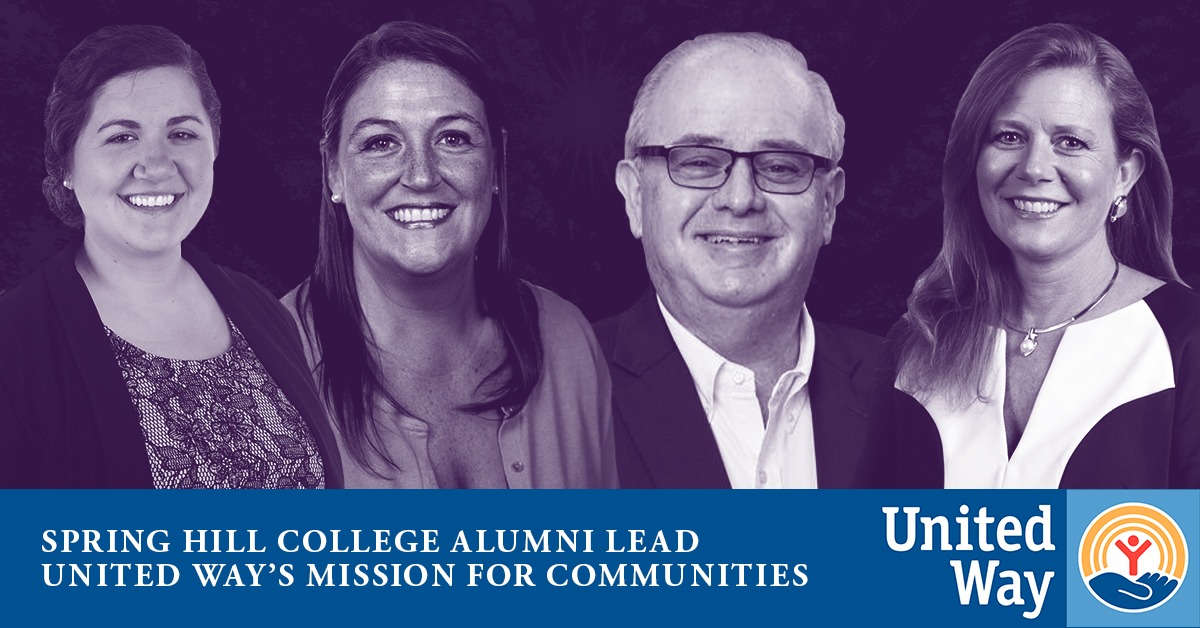 The United Way is one of the largest charitable organizations in the world, serving more than 1,100 communities across the U.S. and the world. The agency brings people and organizations together to build stronger, more equitable communities where everyone can thrive. With 11.5 million volunteers, nearly 7 million donors and 29,000 community partners, United Way focuses on education, economic mobility, and access to health.
It has become a destination for many Spring Hill College alumni, who continue to focus on community service after developing their skills and selves on The Hill.
For Jill Chenoweth, '88, the CEO of the United Way of Southwest Alabama, her time at Spring Hill built on her family's upbringing and prepared her for a life of service.
"Spring Hill was an extension of how I was raised by my parents – they were huge volunteers and always felt like they needed to give back to their community," Chenoweth said. "Spring Hill was an extension of the values my parents taught me."
Spring Hill's focus on social justice, liberation theology and philosophy helped prepare Chenoweth for her career in the nonprofit sector.
In spite of fewer and fewer Americans giving to charities, Chenoweth sees firsthand the huge needs in the communities she serves as the middle class continues to shrink. Many of the calls her team receives every day are from people in the community reaching out for help for the first time.
"Community planning is not based on giving $15-$20 during times of storms, although that is important," Chenoweth said. "Community planning and philanthropy are about the long haul and committing to your community. It's about creating a safety net."
That's what the United Way of Southwest Alabama and its 46 partner agencies aim for. Other Badgers have joined the agency to help spread its mission.
For Leslie Schraeder, '98, Spring Hill College and the greater Mobile community made such an impact that she has stayed in the region after coming down from St. Louis to attend the College. She loved the traditional liberal arts education and the wide swath of people she met at SHC.
She started volunteering and continued doing so out of school, which led her to her first career job as a volunteer coordinator for the Salvation Army. She's been at the United Way for eight years now.
"I was taught to have a real consideration of others, recognizing how fortunate we are, and to have an open mind about people," she said. If you have to work, why wouldn't you want to make people's lives less difficult or open access to things for people who haven't had access? That's why I am here."
Schraeder has seen her United Way get better and better with every new hire – many of those coming from SHC. Lauren Luckie, '14, likes to joke that the United Way of Southwest Alabama is an office full of Badgers. She doesn't think that's an accident.
Luckie started her career at Spring Hill College fundraising in the alumni office after graduating. While she's a Mobile native, her time on campus at Spring Hill opened up new ways to see her hometown.
"The mission of Spring Hill and its liberal arts education and scholarship opportunities, for me, were a perfect fit," Luckie said. "Spring Hill helped me plug into my community in a different way, pivoting toward a professional way."
As part of Luckie's SHC scholarship, she volunteered through the Foley Center at the Via Health, Fitness and Enrichment Center. Before arriving at United Way, she was a fundraiser for five years with United Cerebral Palsy. Both agencies were part of the United Way network.
"My experience at Spring Hill is what sat me in the seat I have today," Luckie said. "Spring Hill really does deliver on cura personalis, and with the emphasis on volunteerism, I don't think it's an accident a lot of graduates from Spring Hill go in directions of service like this."
Walter Hill has walked a similar path for most of his career. The president of the SHC class of 1985, Hill volunteered on and off campus during his time at the College. He started his career at the American Cancer Society, spent time with March of Dimes and has served as the CEO of the United Way of Dothan for the last 19 years.
Hill was recently honored as the inaugural recipient of the Joanne Hightower Award for Excellence. This award, given by the United Ways of Alabama, is intended for an outstanding Alabama United Way professional.
A gifted and effective fundraiser for his entire career, Hill credits his time at SHC for helping him develop his skill set.
"Spring Hill prepared me for my career, even though I didn't know what my career was going to be at the time," Hill said. "The skillset I think I had when I arrived at college, SHC enhanced all of my skills and nurtured me in that community.
"And I am thankful I am still connected to that community, and that I have this community of six counties that we want everyone to thrive in."
Hill has advice for SHC students today: Get involved.
"Find your place in the community and get involved; don't just focus on the academics," Hill said. "Think about your skill set and understand that everything you do after you graduate, you'll need a wide range of skills that Spring Hill teaches."
If you are in need of community services, the United Way is ready to help. Call 2-1-1 for more information about the services available in your community.