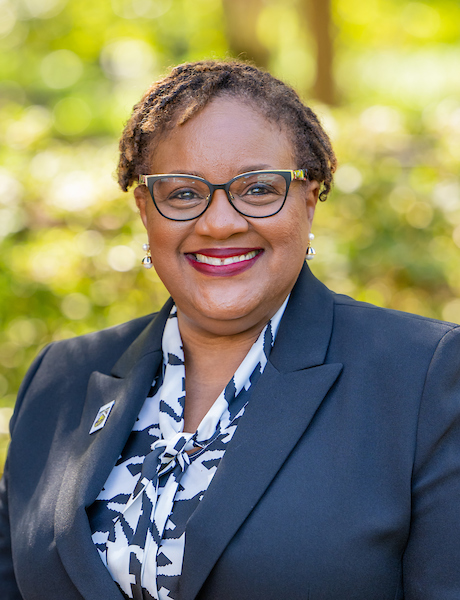 (Mobile, Ala..) – Spring Hill College has named alumna Tyloria Tims Crenshaw, '85 as its new Director of Marketing and Communications. She has spent the last year and a half as Director of Media and Public Relations. Her promotion reflects the College's new communications strategy which is focused on community engagement and development. She will lead marketing initiatives, communications and public relations for the college.
"Working for my alma mater is a true labor of love," Crenshaw said. " As an alum, I have had the opportunity to see us from the inside out. It has given me a unique perspective on how we want to engage our community – both on and off-campus. I am committed to letting everyone know the best that Spring Hill has to offer!"
Crenshaw earned her bachelor's in communications from Spring Hill in 1985 with a minor in political science. She has spent the last 22 years working in public relations and marketing for nonprofit organizations and has an extensive community development and engagement background.
Nathan Copeland, EdD, Vice President for Enrollment, said, "Having Tyloria lead the marketing and communications team makes a lot of sense. Her alumna status coupled with her work experience and community engagement background makes her the right person to serve in this role. As we seek to strengthen relationships with our constituents and tell the story of our almost 200-year-old college, I couldn't be more excited with our current team and know they are up to the challenges and opportunities ahead."
Crenshaw is a product of Mobile County Catholic schools including St. James Major, McGill-Toolen High School, and Spring Hill College. She is a commissioned officer and served in the U. S. Army Signal Corps. She is a member of several professional organizations including the Public Relations Council of Alabama, Southern Public Relations Federation, Mobile United, and Leadership Mobile. She has served as a community advocate and volunteer as a member of the Junior League of Mobile, Spring Hill College National Alumni Association Board of Directors and the Port City Chapter of Blacks In Government (BIG). She is a 200 RYT Nationally Certified Yoga instructor and teaches at Sterling Hot Yoga and Wellness. She has two daughters and one granddaughter.
ABOUT SPRING HILL COLLEGE:
Founded in 1830, Spring Hill College is the oldest Catholic college in the Southeast and the third oldest Jesuit college in the United States. Spring Hill combines the Jesuit tradition of excellence in education and a commitment to caring for the whole person – mind, body, and spirit – with innovative educational experiences. Located in Mobile, Ala., Spring Hill's mission is to form leaders engaged in learning, faith, justice, and service for life. As a result, Spring Hill students are engaged, inspired, and transformed by their experiences.