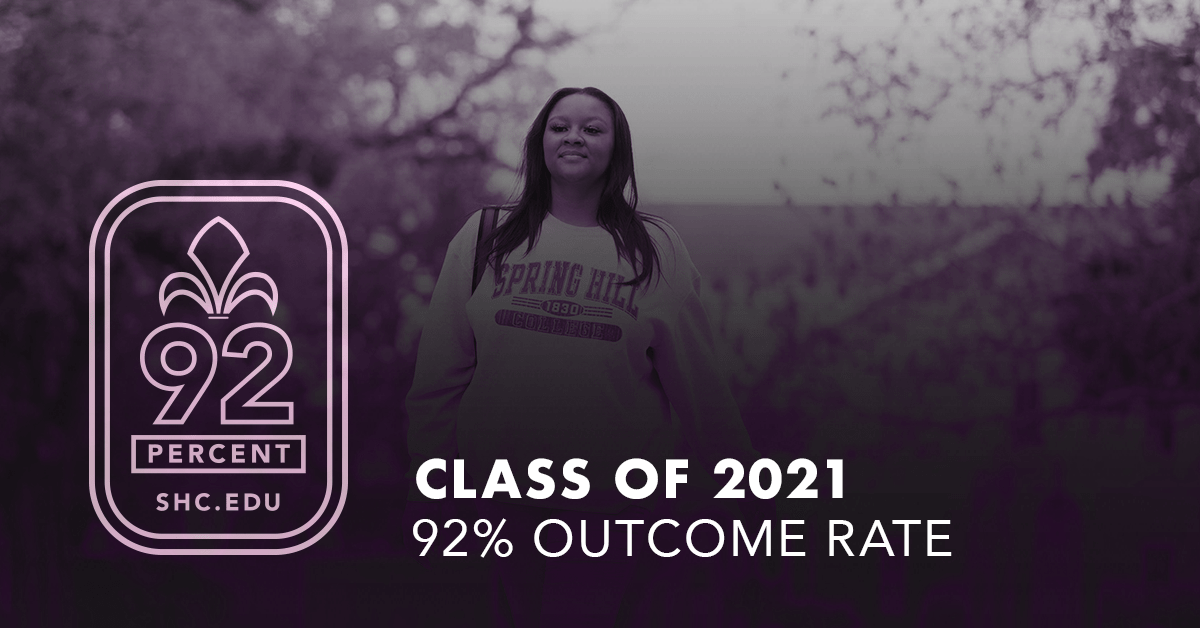 MOBILE, AL. (June 1, 2022) – Students graduating from Spring Hill College (SHC) have outperformed their peers when it comes to career outcomes based on available data from the National Association of Colleges and Employers (NACE).
According to data compiled from the College's class of 2021, 92 percent of SHC graduates secured employment or continued their studies in graduate school. This rate is higher than the 2021 national average of 82 percent as determined by NACE, as well as 15 percentage points higher than the average for colleges and universities in the Southeast. SHC's career outcome rate also was achieved by a graduating class during the height of the COVID-19 pandemic.
"These findings from our class of 2021 reinforce what we all know to be true about Spring Hill College – that our students are among the most ready to make a difference in the world the moment they finish their studies," said E. Joseph Lee, PhD, president of Spring Hill College. "We strive to provide a comprehensive education that serves the mind, body and spirit for our students – cura personalis. When they finish their time on The Hill, they are ready to take the next step of where their personal journey leads them."
With one of the lowest faculty-to-student ratios in the country at 13:1, students at SHC benefit from an intimate learning environment and holistic approach to higher education. The College begins exposing students to career development services and professional skills in their freshman and sophomore years, while classes that concurrently offer off-site internships and experiences with in-class learning provide a sound foundation for personal growth.
"Our approach is very intentional, and the Jesuit mindset runs throughout," said Nicole Larriviere, MA, instructor and internship coordinator with SHC's Division of Business. "We're developing a person, and it goes beyond just sending someone out to join the workforce. We're talking about how our students are going to make a difference in the world, exposing them to walks of life they may not normally see. This enables them to see the big picture so they can grow as a person and envision how they can go on to their profession and make a difference."
Career outcome rates are determined by the number of graduates who have landed in any of the employment categories, including military and community service, as well as those opting to continue their education, divided by the number of students for whom an outcome is known minus those graduates identified as not seeking an outcome.
Learn more at shc.edu.

ABOUT SPRING HILL COLLEGE:
Founded in 1830, Spring Hill College is the oldest Catholic college in the Southeast and the third oldest Jesuit college in the United States. Spring Hill combines the Jesuit tradition of excellence in education and a commitment to caring for the whole person – mind, body and spirit – with innovative educational experiences. Located in Mobile, AlaSpring Hill's mission is to form leaders engaged in learning, faith, justice and service for life. As a result, Spring Hill students are engaged, inspired and transformed by their experiences.