As the middle child, Shelby Hamilton spent her days playing on Caribbean beaches and exploring her hometown, Belize City. She never had visions of crossing the Gulf of Mexico to earn her degree. A senior graduating in May, Hamilton believes Spring Hill College has prepared her for medical school success.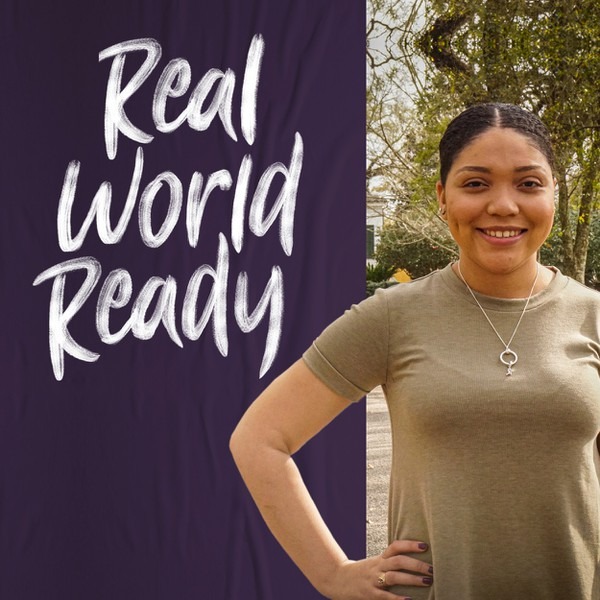 Hamilton was born and raised in Belize City, Belize. Her family would take advantage of the year-round heat to explore the islands around Belize, swimming on the beaches of Caye Caulker and the Placencia Peninsula. Though she grew up attending a Methodist church, she graduated from a Catholic high school and St. John's College, a Jesuit junior college. Seeing the limited number of colleges and universities in Belize, Hamilton knew she would earn her college degree outside of her country. Through St. John's College, Hamilton won a scholarship that allows students to enroll at select Jesuit institutions in the U.S. Hamilton was chosen to attend Spring Hill College in Mobile, Ala. "When they told me I got Spring Hill, I was like okay, let me do my research!" Hamilton said. She had traveled to the U.S. before to visit family and for student conferences, so she was excited about coming to Spring Hill. "I liked that it was close to the beach. We have beaches at home so I love going there." Hamilton said Spring Hill's small campus and enrollment appealed to her as well. "You get to have more of a relationship with everyone; it's more of a community. And when I came a week before classes and started meeting everyone, I felt even better."
Once on campus, to meet more Badgers, she attended the "Greek Meet and Greet" events on campus. Hamilton subsequently joined Sigma Kappa and enjoyed her time as a sorority sister — not only for the friendships but also because they support five philanthropies.
Hamilton tutored less fortunate students in Belize and appreciated serving through Sigma Kappa's philanthropy events. Hamilton said she tutored less fortunate students in Belize and enjoyed helping through Sigma Kappa's philanthropy events, including the Walk to End Alzheimer's and Sigmalympics.
Having the opportunity to meet other students from around the world, including fellow Belizean Badgers, has also made Hamilton's time on The Hill exceptional. "We met at one of the McKinney's mixers," Hamilton said, "I found someone I could relate to, and we could celebrate our national holidays and cook our food." Hamilton also made friends with other students from the Caribbean who live on campus. Hamilton believes meeting other international students is so critical that she's helping start a new student organization called the International Students Association. She says the goal of the organization is to help international students adjust to campus life. "We're trying to work with the cafeteria to have an international night once a month to feature different foods from different countries," Hamilton said. "We would like to have a table in the back of the cafeteria to celebrate different countries' national holidays."
Hamilton has been a biology major since she arrived on The Hill. "In high schools back home, you have to choose a major your sophomore year. I was scared about majoring in science, but I took the chance and I've liked it ever since!" She found it fascinating learning about how the body functions and especially enjoyed her anatomy classes. "When I learn something new, I'm so excited about it and tell my friends and Mom." Hamilton would like to become a doctor and specialize in oncology. "That's an area in Belize that's very underserved. There aren't many treatment options for cancer. People with cancer have to travel outside the country for treatment, which is very expensive." After obtaining her medical degree, Hamilton plans to return to Belize to practice in oncology to treat Belizeans with cancer. She also hopes to aid in cancer research and help find a cure for the disease.
With the help of professors in Spring Hill's biology department, Hamilton was able to apply to medical schools last year. "I was leaning towards some of the Caribbean schools; being an international student, they looked more appealing," Hamilton said. "That's when I came across the American University of the Caribbean School of Medicine." The university is located on the Caribbean island of Saint Maarten and has given Hamilton the option of studying at the university's campus in Preston, England. During her first two years of medical school, Hamilton will study in Preston and then transfer to a U.S. or U.K. hospital to complete her clinical rotations.
Hamilton believes her experiences in class and on campus at Spring Hill have prepared her for this next phase of her life. "Before coming to Spring Hill, I never thought I'd be able to meet as many people as I have," She reflected.
"In the real world, you need to network a lot and work with people who are different than you. Spring Hill really helps with being able to build different relationships with different people." Hamilton says she will take the memories she made on The Hill and the value of "cura personalis" – a Latin phrase meaning "care of the whole person" that expresses the Jesuit emphasis of caring for the mind, body, and spirit – with her to England.
Media Contact:
Office of Marketing & Communications
news@shc.edu