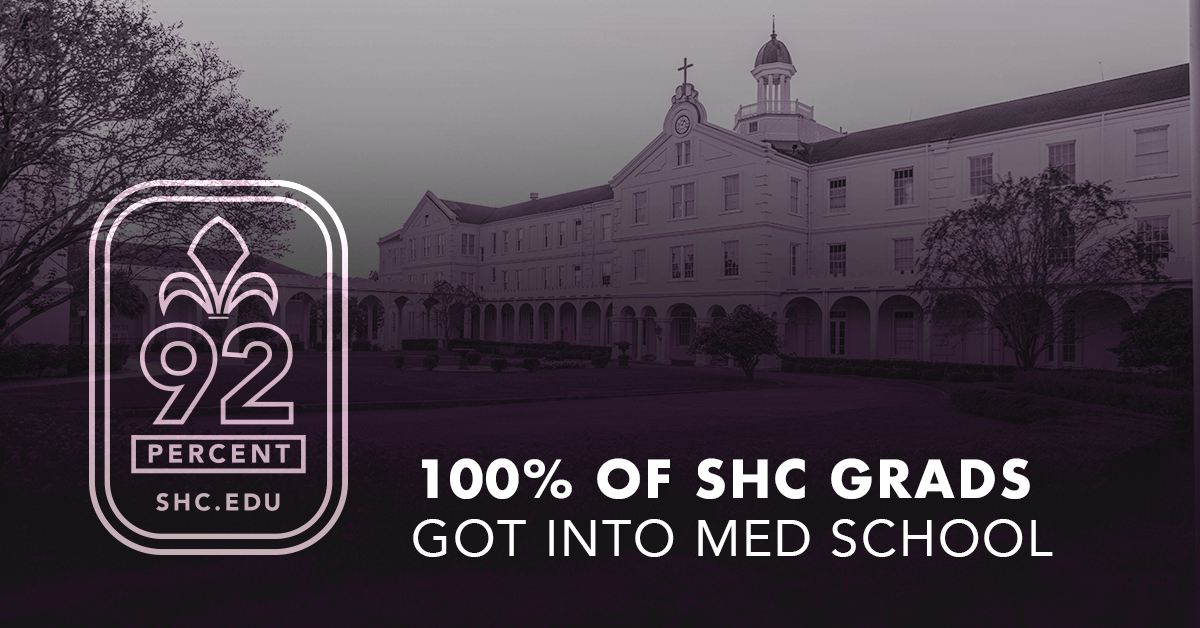 Many students at Spring Hill College have plans for continuing their education after they earn their bachelor's degree on The Hill. In fact, nearly one in three students plan on attending graduate school.
These students often have ambitious plans to attend medical school and become doctors, dentists, physical therapists, pharmacists, and more. At SHC, these plans can be fulfilled thanks to professors, courses, and opportunities that can make medical school a reality. In fact, 100 percent of students who graduate from the College and apply to med school are ultimately accepted.
For Dr. Deborah Fox, SHC's Pre-Professional Advisory Committee Chair and the program director for the Bachelor of Science in Health Sciences, the success of her students both on The Hill and beyond is no surprise.
"For faculty, we're not surprised when our students get in (to medical school)," Fox said. "What warms our heart every time we hear from them is how well they do in these programs compared to students at larger, big-name schools, how well prepared they are. That's what we're proud of."
There are a lot of factors that contribute to SHC students being ready to carry on their education after graduation. The rigor of the classes and focus on liberal arts certainly help, as do the ample opportunities for student leadership both on and off-campus. 
"We put our students in environments that are different from what they're used to with people who do not look like them, and as a result, they're comfortable providing care to all kinds of people," Fox said. "I hear from a lot of graduate schools who are asking us to send more students their way because they are thrilled with our students."
SHC has a pre-health professional committee that writes the letters of recommendation required to continue their education, but the focus on medical school takes hold well before a student's senior year on campus.
"As a committee, we tell our students early, if they are not competitive and not doing what it takes to be accepted, they'll be hearing from us their freshman year," Fox said. "We try to give our students a lot of feedback if they are on track if they're competitive to reach their goals."
Medical schools don't just look at grade point averages when selecting incoming students. Volunteer hours, campus involvement, and supporting the community around a student can all make a difference.
"They're looking at the whole picture, the whole person, and that's what SHC focuses on," Fox said. "We're not just preparing our students academically, so they go into this with an advantage over students elsewhere who have just focused on academics."
SHC also offers a shadowing course that provides students with 40 hours of in-practice experience. They ride along in ambulances, watch surgeries and see first-hand what primary care looks like. They get a look at inpatient and outpatient rehabilitation, pathology and tissue studies, touring diagnostic labs as well as hospital and clinical pharmacies. 
Students also get a glimpse of how physicians run their practices and business and observe a lot of doctor-patient interactions.
"What's really fun about that class is we see so much vocational discernment," Fox said. "We get to affirm to these students that this is what they want to do, and they find that niche in medicine that really speaks to them.
"For instance, I've had three pre-med students change to dentistry because they found dentists have a more one-on-one relationship with their patients – sometimes with cradle-to-grave care – and they want those quality relationships."
Forrest Fontenot, who earned his bachelor's degree as a pre-health major at Spring Hill, is now studying at the University of Alabama at Birmingham (UAB) School of Dentistry, where he plans to graduate in 2024. He is thankful for the preparation Spring Hill gave him to help him focus on and achieve his goal.
"The quality of student/teacher relationships and the challenging and relevant coursework in Spring Hill College's biology and medical science departments made the transition to dental school much smoother than anticipated," he said.
Lauryn Bass had a similar experience at SHC. After graduating from Spring Hill, she is now studying at the LSU School of Medicine in New Orleans. She credits her time at SHC for helping her discern the medical career she wanted.
"My four years at Spring Hill College not only taught me what I needed to know to be accepted to medical school, but they taught me what type of doctor I want to be," Bass said. "The school's emphasis on the pursuit of social justice taught me that I want to be a doctor that is passionate not only about medicine but about upholding the dignity of each person they treat." 
ABOUT SPRING HILL COLLEGE:
Founded in 1830, Spring Hill College is the oldest Catholic college in the Southeast and the third oldest Jesuit college in the United States. Spring Hill combines the Jesuit tradition of excellence in education and a commitment to caring for the whole person – mind, body, and spirit – with innovative educational experiences. Located in Mobile, Ala., Spring Hill's mission is to form leaders engaged in learning, faith, justice, and service for life. As a result, Spring Hill students are engaged, inspired, and transformed by their experiences. 
– SHC –