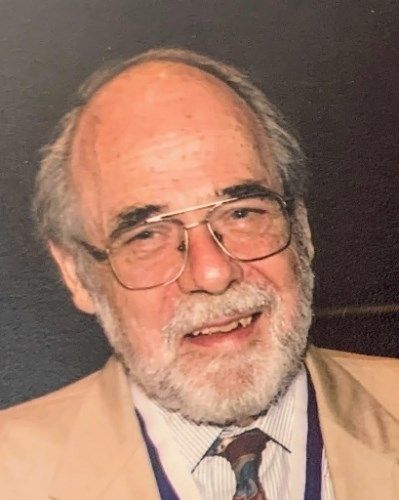 Michael Francis Kaffer, Ph.D., Professor Emeritus at Spring Hill College passed away on Saturday, Jan. 22, 2022, at the age of 87. He graduated from Spring Hill in 1961 with a Bachelor of Fine Arts and began teaching English one year later, dedicating 53 years of his life to his alma mater.
His life will be celebrated on February 4, 2022, at Saint Joseph Chapel on the campus of Spring Hill College. The family will receive visitors in the chapel from 2:00-3:00 pm. The service will begin at 3:00 pm, followed by a reception in the Gautrelet Room at 4:00 pm. Masks are required for all indoor activities. In lieu of flowers, the family requests donations be made in his memory to Spring Hill College, where he spent so many happy years: http://www.shc.edu/give.
Kaffer began his teaching career in the English Department. He took a three-year hiatus to complete a Master's degree in English from Louisiana State University – Shreveport, returning to Spring Hill in 1969. He earned a Ph.D. in Higher Education Administration from the University of Alabama in 1985. He was named "Professor Emeritus" at commencement that same year and the College honored him at Homecoming, by dedicating a classroom in the Lucey Administration Building in his name.
He was a teacher of the year honoree and six-time winner of the H. J. Fagot, S.J. Award, given by the Student Government Association to a faculty member for service to the student body. Kaffer is credited with creating the first adult education program on campus and served as its first dean. He was faculty moderator of the Student Government Association for 10 years and faculty advisor for both the Springhillian and the Motley. He participated in the college's Upward Bound program and served as co-director of the college theater.
Kaffer served eight terms as chair of the faculty/staff assembly, 21 years as freshman seminar advisor, 17 years as chair of the English program, 15 years as chair of the Division of Languages and Literature. He was named the Altmayer Endowed Chair in Literature.
In 1985 he retired and calculated that he had been at the college 29.6 of its 185 years. Having worked since he was 13, Kaffer embraced retirement, serving as an adjunct faculty member. At the reception in his honor that year, he said he was filled with joy that faculty, staff, and students appreciated his 53 years of service. He said, "most of all I will miss the students – they are the ones who make what I do worthwhile."
In 2010, he gave the inaugural "Last Lecture," in Byrne Hall. Originated as a talk given to students at Carnegie Mellon University by Dr. Randy Pausch, a professor of computer science who was dying of pancreatic cancer. It resulted in an internationally best-selling book. Alpha Sigma Nu, the Jesuit honor society, brought the Last Lecture Series to Spring Hill in spring 2010. They chose Dr. Michael Kaffer, professor of English and one of Spring Hill's most popular faculty members. It was presented on Feb. 11, 2010.
He was awarded the Gautraulet Alumni Award in March of 2011. Named after the college's first President, Rev. Francis Gautraulet, S.J., it recognizes an individual of high integrity who demonstrated outstanding professional achievement.
ABOUT SPRING HILL COLLEGE:
Founded in 1830, Spring Hill College is the oldest Catholic college in the Southeast and the third oldest Jesuit college in the United States. Spring Hill combines the Jesuit tradition of excellence in education and a commitment to caring for the whole person – mind, body and spirit – with innovative educational experiences. Located in Mobile, Ala., Spring Hill's mission is to form leaders engaged in learning, faith, justice and service for life. As a result, Spring Hill students are engaged, inspired and transformed by their experiences.
– SHC –