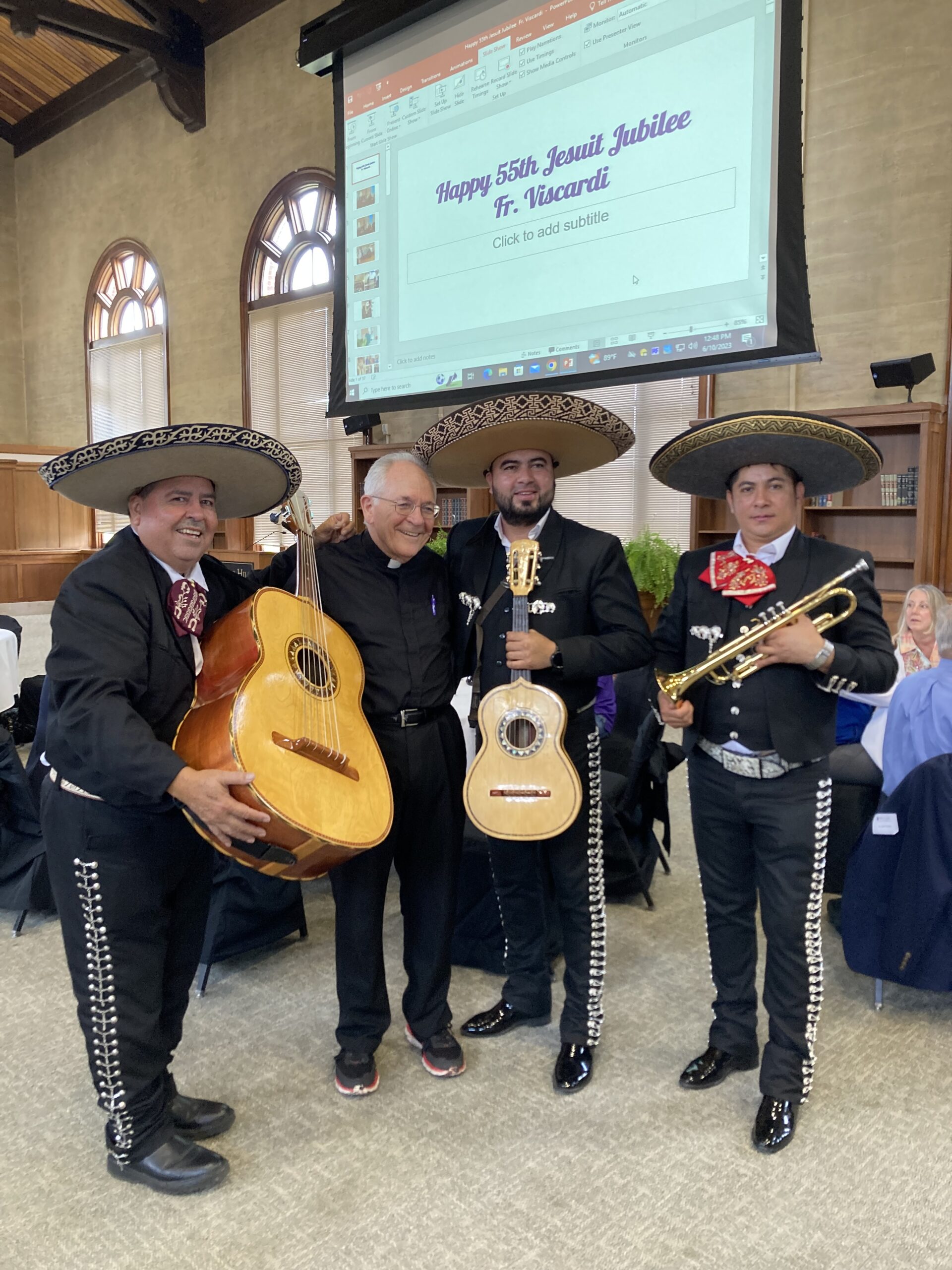 (Mobile, Ala.) Spring Hill College recently celebrated the 55th Year Jubilee of Rev. Christopher Viscardi, S.J. Joined by members of Mobile's Catholic and Hispanic communities, the Most Rev. Thomas J. Rodi, Archbishop of Mobile – students faculty, and staff he was recognized for his 44 years of service to the College and 55 years as a Jesuit.
Rev. Christopher Viscardi, S.J., has been a thoughtful, scholarly voice at Spring Hill College since 1979. After completing his doctoral studies in theology, he was sent to teach theology at Spring Hill as his first assignment. It was supposed to be a single stop on his Jesuit journey, but 44 years later, he still calls "The Hill" home.
The Austin, Texas native, has served the College long enough to teach many students whose parents he had also taught. Viscardi has studied the history of SHC from its founding in 1830, in the Jesuit archives of Rome, Paris, and the US. He has also been a part of its modern history for more than 40 years.
"When I got here, (the New Orleans Province) needed someone to teach theology at SHC for two or three years," Viscardi said. "During those two or three years, I fit in very well, started doing Spanish Mass for the Hispanic immigrant community, which no one else was doing, and got involved with many other things. The province said, 'You're doing good work, so we want you to stay a little longer.' So eventually that stay was for the rest of my career."
He was appointed chair of the Theology Department and of the Philosophy & Theology Division in 1986. From 1988 to 1994, he spent summers in Rome as part of the editorial team working on the Encyclopedic Dictionary of Jesuit History. He also served as a vicar for the Hispanic ministry for the Archdiocese of Mobile.
Viscardi entered the Jesuits in Grand Coteau, La. in 1967 and made first vows two years later. He was ordained a priest on July 11, 1976. He taught for two years at a Jesuit High School in New Orleans, La. from 1971-73.
Hearing the Call
As a child, growing up in a strongly Catholic family, Viscardi served as an altar boy for many years in his home parish. After high school, he attended the University of Texas at Austin. In his final year at the University, as he was contemplating the next step in his life, he began conversations with a visiting professor who was also a Jesuit priest, as well as with a few graduate students who were Jesuits. The diversity of careers that could be combined with service of the faith drew him to explore the possibility of joining the Jesuit order.
"Combining scholarship, education, and a missionary vision, to wherever it might be in the world, was a strong attraction for me – and seeing that there were Jesuits who were lawyers and astronomers, running the Vatican observatory and doing all kinds of other things as well as teaching in high schools and colleges," Viscardi said.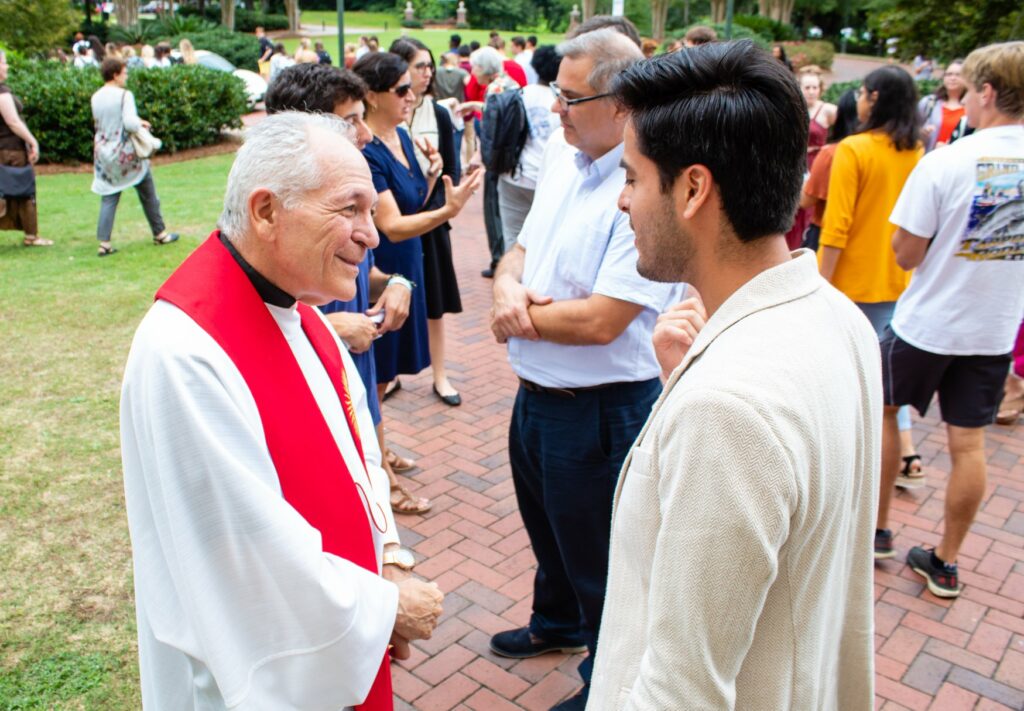 Viscardi began his formation as a Jesuit with the two-year novitiate, which includes several personal experiences of Jesuit life, with training in meditation, working in hospitals and schools, and serving the poor. During a 30-day silent retreat, he experienced inner peace, along with a call toward service.
"I realized that I really was happy," Viscardi said. "After those first six months in the novitiate, everything had gone well, and I felt like it resonated with me deep inside. I felt that I had found the right place for the rest of my life. I was sure that it was what I wanted to do, that God was calling me there. Since then, there have been ups and downs and many different struggles, but I have never doubted that this is my calling, my niche in life."
Viscardi earned a BA in humanities from the University of Texas, Austin, an MA in theology from Saint Louis University, and a doctorate in theology from the Pontifical Gregorian University in Rome, in the area of spirituality. His particular areas of interest are the history of spirituality and American religions.
Making a Home on The Hill
Viscardi completed the 10-year Jesuit formation, with his final studies in Rome, where he completed his doctoral work. After completion of the doctoral degree in theology, he was sent to Spring Hill College as his first assignment. At that time, he was the youngest of the 25 Jesuits at SHC. Today, he is one of the 6 Jesuits at the College. In addition to teaching undergraduate and graduate theology courses, he continues to work with the local Hispanic community, offering a Spanish Mass every Sunday.
"I had never really dreamed about being a teacher at a college, but when I got here and started doing it, it grew on me," he said.
One initiative outside the classroom that Viscardi holds dear is the establishment of a Jesuit Spirituality Center on campus. One of the four priorities for all Jesuit works throughout the world is "showing the way to God through Ignatian spirituality, the Spiritual Exercises and teaching of discernment". The creation of the building transcends the classroom, allowing Jesuits to teach campus members and the public about their mission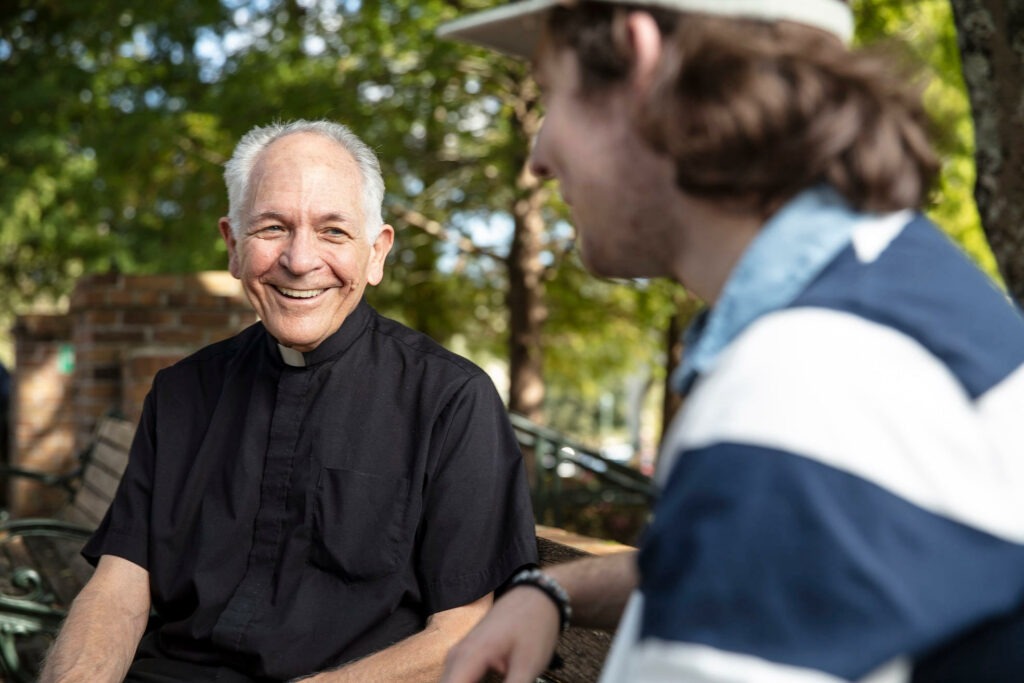 "The Jesuit Spirituality Center is something directed not only to the students here right now, but also to alumni and to the broader community, both Catholic and non-Catholic," Viscardi said. "There is a purpose beyond just keeping this institution alive, but a bigger purpose of our mission to the world today."
Hope for the Path Ahead
During his time in Mobile, Viscardi has taken time to research the history of the school he's called home. He's drafting a book on the history of Spring Hill College, drawing on the archives found in New Orleans, Rome, and Paris to explore the story of the nation's third-oldest Jesuit institution of higher education. It is a history of overcoming challenges while continuing the mission of Jesuit education.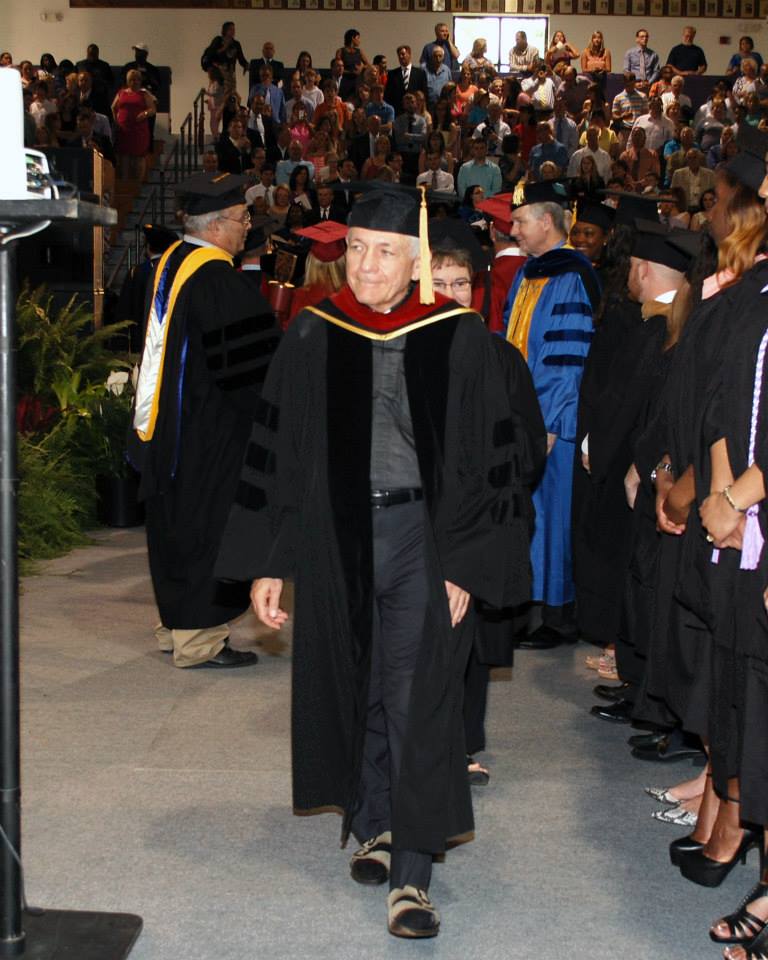 "I think we have challenges, along with great opportunities," Viscardi said. "We have a very dedicated Board of Trustees, and our new president is very capable; she has a lot of hope, sees opportunities, and is ready to pursue those opportunities. We have solid foundations to move beyond survival and begin to flourish. That's our hope, and that's what we're working on."
ABOUT SPRING HILL COLLEGE:
Founded in 1830, Spring Hill College is the oldest Catholic college in the Southeast and the third oldest Jesuit college in the United States. Spring Hill combines the Jesuit tradition of excellence in education and a commitment to caring for the whole person – mind, body, and spirit – with innovative educational experiences. Located in Mobile, Ala., Spring Hill's mission is to form leaders engaged in learning, faith, justice, and service for life. As a result, Spring Hill students are engaged, inspired, and transformed by their experiences.