When he was exploring college options, Nicolas "Nic" Johnson didn't have Spring Hill College on his radar. Wanting to immerse himself in community service while earning his degree, Johnson toured larger colleges and universities, hoping to find a campus that valued public service as much as he did. After learning about Spring Hill via emails, he decided to tour the campus.
"Needless to say, I was blown away," Johnson reflected, "Spring Hill offered so many opportunities to get involved in the community. I loved the close-knit feel of the campus and how everyone treated each other. There were just a lot of positives about coming to Spring Hill." Johnson found that Spring Hill gave him the opportunities he wanted to make a positive impact in the community surrounding the campus. "It is an institution that's committed to service and values it."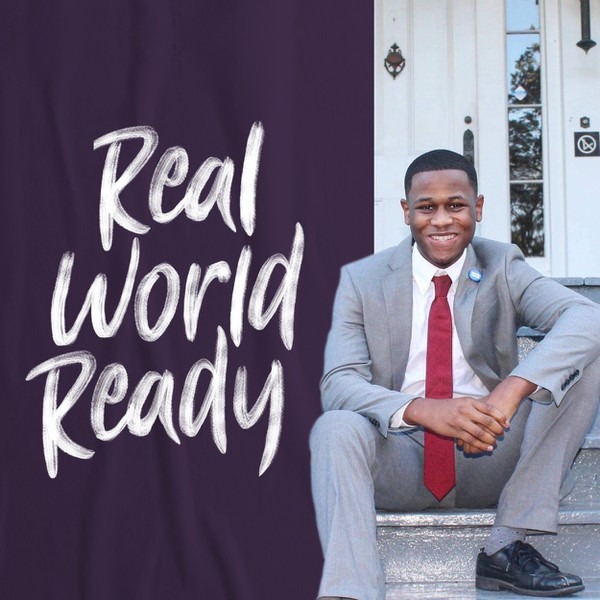 Johnson's desire to get involved in the community and public service started during his childhood in Montgomery, Ala. The high school he attended was on the state's "failing" schools list. The school suffered from administrators and teachers continuously leaving their positions, which Johnson said caused student morale and class attendance to plummet. He also experienced bullying in the classroom and the lunchroom. In addition to school issues, Johnson's mother felt his neighborhood was so unsafe that she stopped Johnson and his brothers from venturing past their front yard.
Growing up under difficult circumstances established his passion for problem-solving and inciting positive change. Johnson's upbringing revealed the importance of uplifting youth and providing them with mentors and adequate resources to succeed. He said that his desire to serve came from empathy as well. "You can't solve any problems without first being understanding, you can't solve any problems without first being able to listen." Johnson described himself as a team player and to solve problems from multiple perspectives. "It's not just about me, it's about everyone. How do we meet each other where we are?"
During his freshman and sophomore years, Johnson served as a tutor and site coordinator at Mobile County Training School in Africatown through the Foley Center Education Immersion Program. He called his time as a tutor a "very fulfilling experience" because it affirmed that he wanted to fight for people who have very little. Tutoring ignited a desire to become a lawyer to provide those with few prospects with a chance for better opportunities. Now a junior, he's majoring in political science with a minor in English. Johnson has maintained his dedication to serving others while preparing for life after The Hill. He believes his political science degree will provide him with a solid foundation in his career. "I think political science will give me the best background and knowledge to make decisions that will affect public policy or social change."
Johnson also participates in the College's student life. He is currently vice president of the Men of Color Council, an organization that seeks to establish a brotherhood and encourage professional development and community service among students of color. Since his freshman year, he has served as a Residential Assistant (RA) and will serve as a senior RA this fall.
One vital life lesson Johnson learned — how important it is to consider other people's needs. He's made that a focused priority in his work each day. He's convinced that his active involvement on campus has taught him meaningful lessons about how to help others. "The way that you do things and the way that you speak about the way you do things will tell people whether or not you're serious about helping them and making a positive impact." Johnson never had a problem stepping back from an issue to make a person feel comfortable. "If you don't want my help, then you don't want my help-but I'll always be here if you need me. That's how I approach service. "
Johnson hopes to attend his dream school, Georgetown University Law Center in Washington, D.C., while earning a Master of Public Policy degree, then continue with a Juris Doctor in either criminal justice, regulatory, or civil rights law. "It will take another four years of school, unfortunately, but it will give me the knowledge I need to go into these fields to attack what I need to create change." He hopes that through working in the law sector, he can hold companies accountable for unethical practices. Johnson also wants to advocate for educational reform, including raising teachers' salaries and implementing mentorship programs in public schools.
Although retirement is a long way off for this Junior, Johnson said that he wants to work wherever he's needed, for as long as he can. In fact, in the final years of his career, he hopes to return to Montgomery, Ala., to teach history or English in a public high school. He said that if it's God's will, he would love to teach at the public high school from which he graduated.
When asked about how Spring Hill has influenced his life, Johnson commented that there's so much to share; he'll have to write a paper about it after graduation. "It's been impactful in many ways — it's helped me grow as a person and an adult." He said Spring Hill has allowed him to channel his inner passions for community service and advocate for educational reform.
– SHC –
Media Contact:
Office of Marketing & Communications
news@shc.edu