William Brandyburg, a senior English major at Spring Hill College in Mobile, Alabama, knew even as a high school student that his path would take him from high school to college to law school. Along the way, his leadership helped bring the first Black Greek letter fraternity to the campus.
Brandyburg is the polemarch, or president, of the Eta Nu Colony of Kappa Alpha Psi at Spring Hill. Founded in 1911, it's one of the oldest fraternities of the National Pan-Hellenic Council, a member-based group of historically Black organizations known colloquially as the "Divine Nine." The organizations originally were banned from associating with their white counterparts.
Brandyburg worked closely with alumni members to bring a chapter to "the Hill."
"This is the first time that Kappa Alpha Psi, or any NPHC fraternity, has been officially recognized at Spring Hill College," Brandyburg said. "Now we look to the future to continue building a legacy of service, brotherhood, and achievement."
Brandyburg's favorite service project with the fraternity is the annual Easter Egg Hunt it organizes for hundreds of inner-city children near the Taylor Park community center.
Supporting others is part of Spring Hill's Jesuit tradition of "cura personalis," meaning care for the whole self – mind, body and spirit. For Brandyburg, this also translates personally into dealing with the stress of college and demands of leadership in a healthy way. "Intensity is kind of my vibe," he said.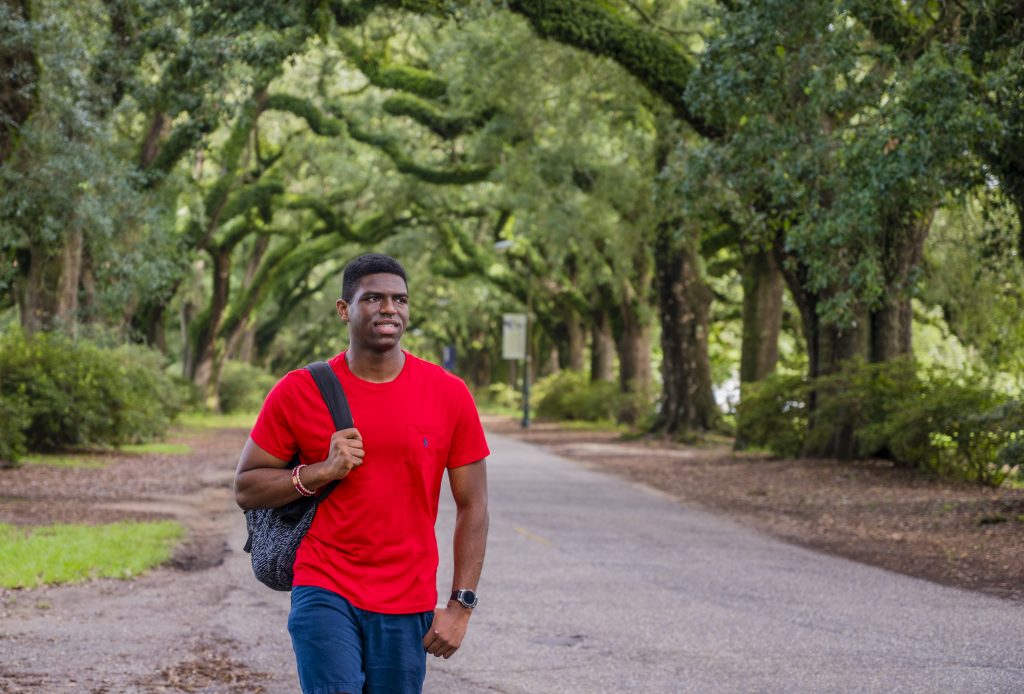 Pre-COVID, Brandyburg de-stressed by joining friends on scooters to visit downtown Mobile's parks, stores and restaurants.
He also has enjoyed academics, particularly three courses he's taken from his favorite teacher Dr. Cinthya Torres, assistant professor of Spanish.
"I like the way that she (Torres) promotes the learning of language in every aspect of class. Assignments are in Spanish, class is mostly conducted in Spanish, and the texts we read and films we watch are mostly in Spanish too," Brandyburg said.
Spring Hill offers a distinct, close-knit community, where professors know students by name, he said. "I'm sure that everyone thinks that their school is unique in some way, but Spring Hill really doesn't feel like any other school."
Part of the College's mission is to make a high-quality Jesuit, liberal arts education accessible and affordable. Financial considerations were at the top of the list when Brandyburg was considering where to receive his undergraduate education.
"Not accumulating a huge amount of student loan debt was the most important thing to me going into college," Brandyburg said.
In September, the College announced it was resetting its costs, lowering tuition and fees nearly 50 percent in 2021 for incoming freshmen. The college also is developing new, progressive degree plans that will make its graduates even more competitive in the workplace.
"As our world continues to change, it is part of our mission and vision as Spring Hill College to help shape the kind of education that will address the new opportunities and challenges students will face," said Spring Hill College President E. Joseph Lee II, PhD in the news announcement.
As Spring Hill strategically plans for the future, Brandyburg is doing the same – getting ready for graduation and taking the next step in his plan.
"I am going to law school after graduating," he said. "I can confidently say that my classes at Spring Hill have left me feeling prepared for whatever happens next academically."
Media Contact:
Office of Marketing & Communications
news@shc.edu