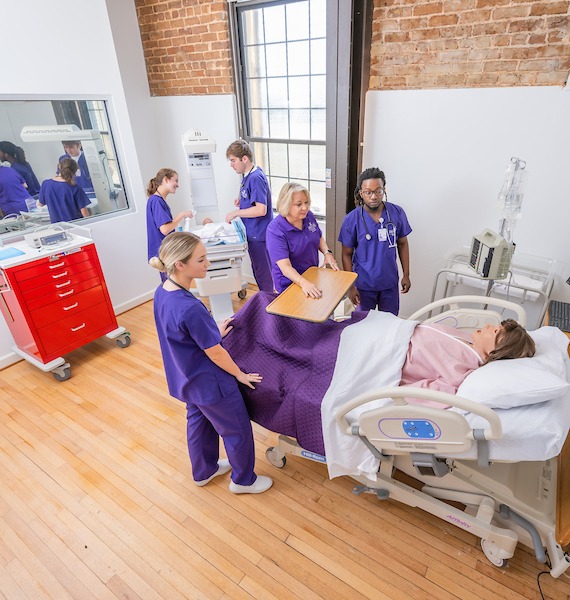 When COVID-19 first emerged in the U.S. in March 2020, it presented a predicament for the nursing students at Spring Hill College. Given the confusion and concern around the new virus, hospitals across Mobile and around the country began limiting access to visitors in an effort to prioritize the health and security of their staff and patients.
However, this safety step was detrimental as it kept the next generation of medical students locked out of the teaching environments that would best prepare them to treat COVID-19 and a wide range of medical conditions.
Thanks to a generous, anonymous donation, nursing students from Spring Hill won't have to deal with that type of shutdown in the future. A newly expanded and revamped nursing simulation facility on campus can now provide hands-on experiences to further students' education and training.
"At the time, we didn't know what the disease was, and we didn't want young people in the hospitals so that negatively impacted their clinical experience," said Kathy Sheppard, PhD, RN, Associate Provost for Professional Programs and Special Assistant to the Executive Vice President.
WKRG News 5 recently featured Spring Hill's advanced learning facility on a recent newscast: https://www.wkrg.com/mobile-county/learning-advances-to-a-new-level-for-spring-hill-college-nursing-students/ The facility features revamped classrooms, expanded skill labs, and faculty control rooms. Plus, the addition of two high-fidelity patient simulators, one an adult woman and the other a pediatric child, allows students to realistically train through a variety of medical conditions.
Given the continued uncertainty around the pandemic, this is incredibly valuable.
"RSV (Respiratory Syncytial Virus) is seen in winter months, but if we have a pediatrics course when we're unable to go to the hospital, our students may never see a patient with that disorder," Sheppard said. "It's a disease that can have some negative outcomes, so we want them to see it so they can learn how to respond to it. The simulators we now have will make sure we can prepare them for a situation like that."
The Lucina is a high-fidelity adult female simulator that allows students to train on all stages of childbirth, including various emergency situations. The simulator can present multiple medical conditions from a normal child delivery to one complicated by any number of health conditions, such as increased heart rate or a hemorrhage. It also has a replaceable abdomen so that students can practice various medical surgery options. 
Students also will be able to train with a pediatric simulator that presents as a seven-year-old female child. This model talks and breathes, has a heart rate, and can respond to various situations. As with the adult female simulator, students will be able to perform various procedures to better prepare for real-world scenarios such as conducting ventilation, administering a trach or gastric tube, and performing a catheterization.
Additionally, the new training center features a mid-fidelity Ares simulator that enables students to practice techniques for advanced life support, cardiac care, and emergency care. 
The new training facility features a revamped skills lab featuring five beds with new mannequins to support their efforts. Students can watch an instructor perform a procedure via a video link and then follow along in real-time at their assigned station.
"This is incredibly valuable for our students because instead of seeing it and then trying to remember how to do it, they'll be able to work right alongside their teacher," Sheppard said. "It's a repetition type of learning, which is so beneficial in medical training."
While students work in the various simulation rooms, faculty are nearby in a control room that enables them to manage the training scenarios. They'll be able to adjust the conditions of the simulated patient to better test the responses of the students, as well as intervene as needed to update medical orders and provide counsel.
Spring Hill College's nursing program has consistently been ranked as one of the best in both Alabama and the Southeast by several publications, including Forbes, Colleges of Distinction and various nursing and medical industry media.
For more information about our award-winning nursing program go here: https://www.shc.edu/academics/division-of-nursing/
ABOUT SPRING HILL COLLEGE:
Founded in 1830, Spring Hill College is the oldest Catholic college in the Southeast and the third oldest Jesuit college in the United States. Spring Hill combines the Jesuit tradition of excellence in education and a commitment to caring for the whole person – mind, body, and spirit – with innovative educational experiences. Located in Mobile, Ala., Spring Hill's mission is to form leaders engaged in learning, faith, justice and service for life. As a result, Spring Hill students are engaged, inspired and transformed by their experiences.