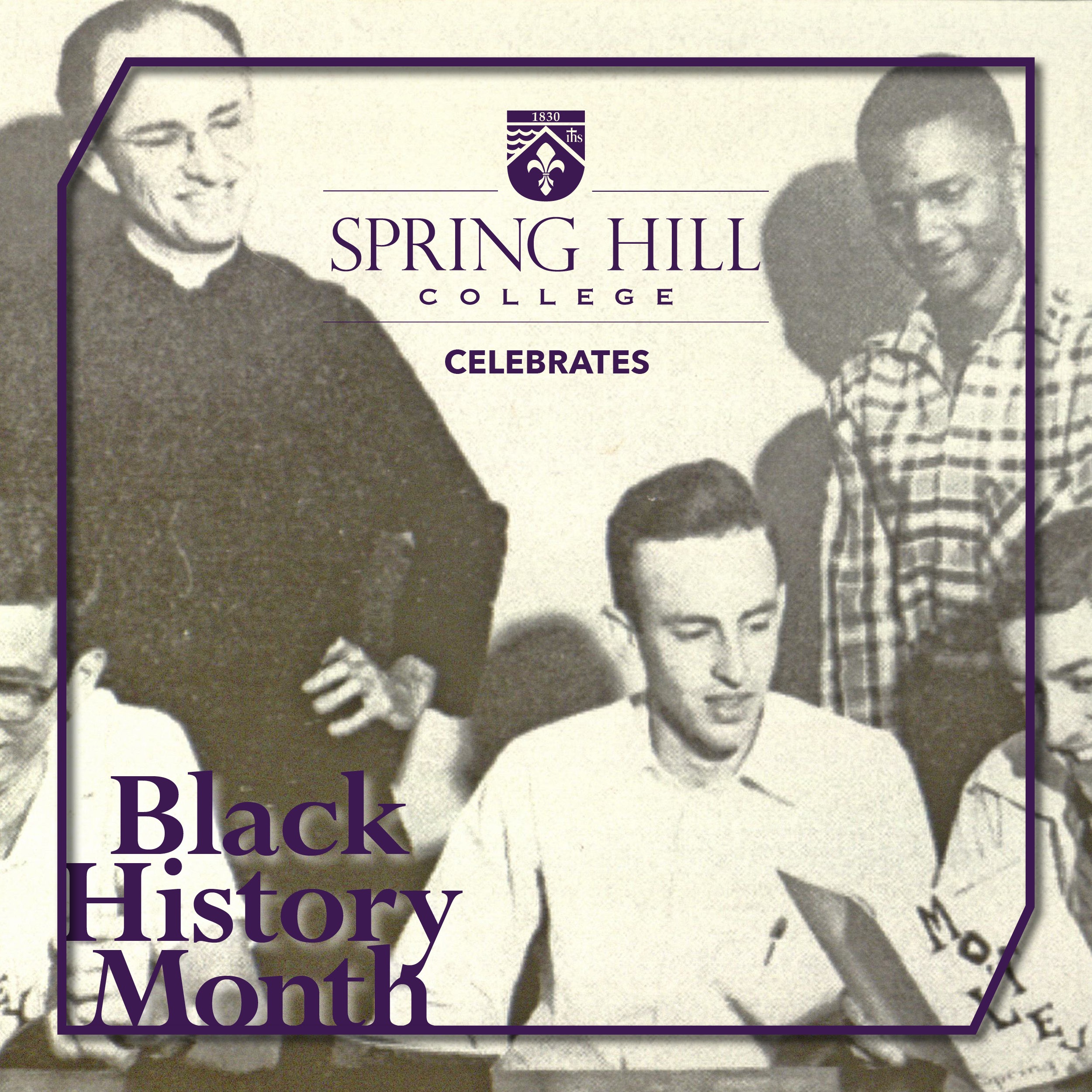 Much has been written about Spring Hill College's history of desegregation and the legacy of civil rights. The College quietly desegregated in September 1954, as eight African Americans joined the student population. The ninth, Mrs. Fannie Motley, joined in the spring semester.
In 1956, Mrs. Motley became the first African American graduate of the College. She was one of only two Mobile area students to graduate with honors that year, quietly making history as the first African American to graduate from a four-year college in the State of Alabama.
During Black History Month, the College looked at the lives of the first African American students who enrolled and integrated. Mary Andrea Abrams '57, Patricia Blackmon '58, Robert Buchanan '57, Elbert LaLande '57, Cecilia Mitchell '58, Julia Ponquinette '58 and Fannie Motley. We also remember Curtis Boddie, '67 who fully integrated the campus community becoming the first African American student to live on campus. We created a special video presentation in commemoration of Dr. King mentioning Spring Hill in his "Letter from Birmingham Jail."
These are all parts of our past that we are proud to share. Our present includes the legacy of some of those students who paved the way for others and we will continue to share those stories throughout the year. Like Alumna Jasmine Williams, '2011. In 2007, she became the first recipient of the Fannie Motley Endowed Scholarship, designated for well-rounded and diverse leadership. She received her degree in Journalism and was recently named co-anchor of WFSA News 12 in Montgomery, Ala. Jasmine says she did not choose Spring Hill; Spring Hill chose her. "I knew about Spring Hill's legacy of civil rights and the Letter from Birmingham Jail. I knew the story about the Klan being chased off-campus. But once I got here and met people and really saw how the students and the professors lived that legacy, I was blown away."
Williams has continued that civil rights legacy in her work and her current location in Montgomery – the birthplace of the civil rights movement. "It is truly an honor for me even being associated with someone of Fannie Motley's magnitude. It really means a lot to me. People stood behind me to make sure I would be successful. I am so grateful for the people like her who fought to pave the way for me."
The future of Spring Hill's civil rights journey is rooted in our past and our Jesuit traditions. As we continue to "care for the whole person," our student population is more diverse than ever. While the majority of the student population is white, 13 percent of the student population are African American, with a growing percentage of Hispanic, Asian, Hawaiian, or Pacific Islander; representing students from 31 states and 30 different countries.
Plans are currently underway for future projects which include:
A historic marker on campus recognizing Spring Hill for its desegregation efforts,
including the College as a part of the African American Heritage Trail and the State Civil Rights Trail.
Ryan Noble, M.F.A., assistant professor of visual and performing arts at Spring Hill, is working on a documentary film about the civil rights era and Spring Hill College
An upcoming partnership with the Martin Luther King Center and to become a Beloved Community. This is a training and education series that condemns violence of any kind and teaches the principles of non-violence.
The Port City Chapter of Blacks In Government Inc. will recognize the College and its integration efforts this summer, as part of the Juneteenth Celebration.
Our past is filled with ordinary people who took bold steps to do what they felt was right for them, it was accomplished quietly and without fanfare simply because it was the right thing to do at the time.  
ABOUT SPRING HILL COLLEGE:
Founded in 1830, Spring Hill College is the oldest Catholic College in the Southeast and the third oldest Jesuit college in the United States. Spring Hill combines the Jesuit tradition of excellence in education and a commitment to caring for the whole person – mind, body and spirit – with innovative educational experiences. Located in Mobile, Ala., Spring Hill's mission is to form leaders engaged in learning, faith, justice and service for life. As a result, Spring Hill students are engaged, inspired and transformed by their experiences. For more information, visit www.shc.edu.
SHC –