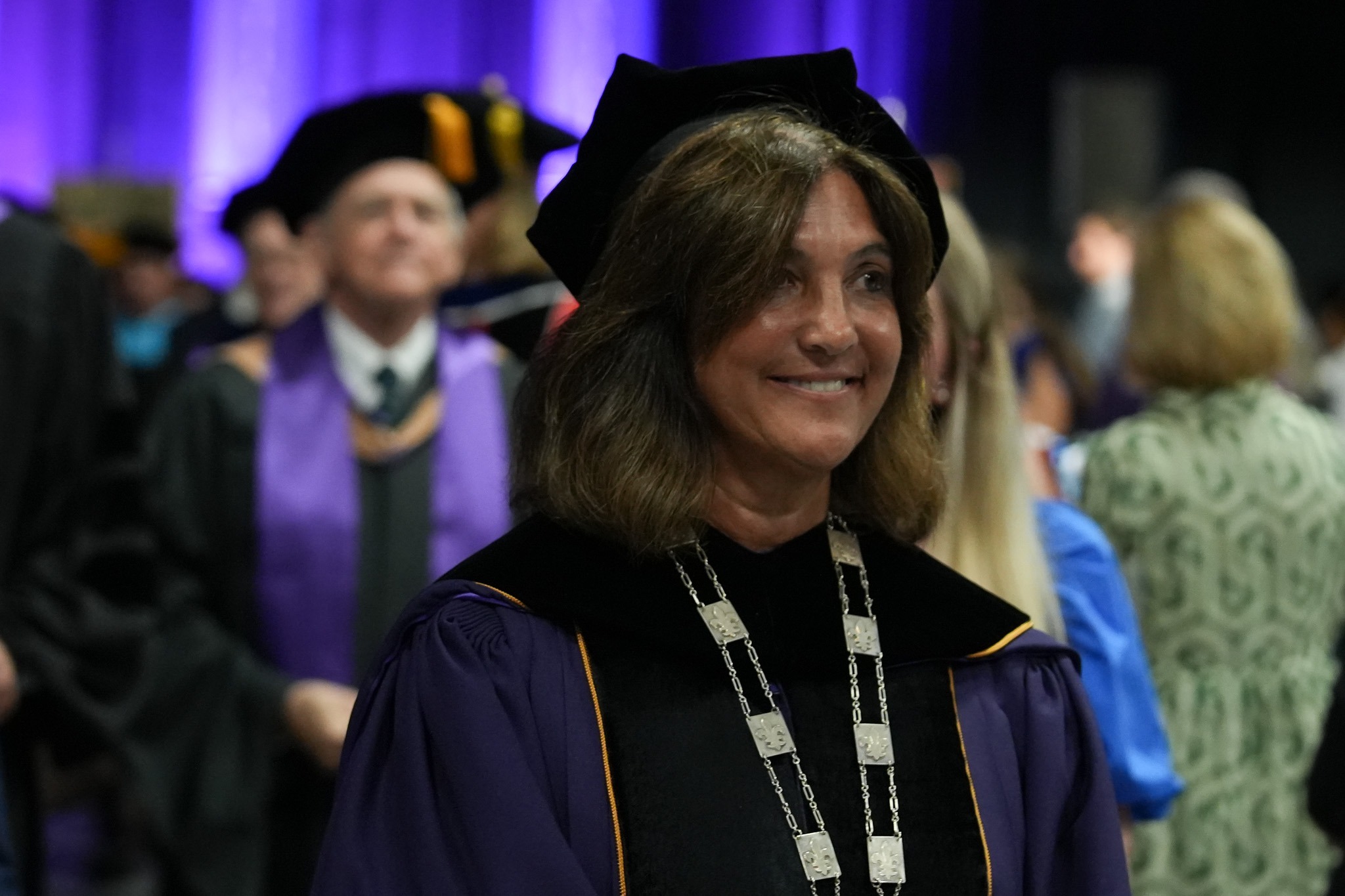 (Mobile, Ala.) Mary H. Van Brunt, PhD was inaugurated as the 39th President of Spring Hill College on Friday, March 17, 2023. This historic event marked the beginning of a new era for the College with Van Brunt being the first female in the College's 193-year history to serve in the top leadership role.
Van Brunt's inauguration was preceded by a full week of activities centered around the theme, Renovare', from the Latin term meaning to restore or renew. The photo gallery from each day's activities will be available on the website later this week at https://www.shc.edu/inauguration. Thursday and Friday's events were live-streamed and are available via the following links:
Here is a quick recap of the week's activities:
Philly Cheese Steaks! Students got an opportunity to dine with Dr. Van Brunt while being served her favorite lunch of Philly Cheese Steaks in the Caf. They learned some fun facts about her and she participated in a sorority fundraiser, getting "pie" in the face! Monday evening was Treats and Sands where Van Brunt joined students, faculty, and staff at the intramural sand volleyball tournament; all while feasting on chicken fingers from Foosackly's and cold treats from Southern Cream!
Kickball, Street Party, and Tailgate. It was students vs faculty and staff in this intense competition with faculty and staff winning 14:2. There was lots of food, music, and fun!
Day of Service – approximately 100 students, faculty, and staff participated in a day of service, giving back to the campus. This was a community-wide campus clean-up that was part of the project to build a hiking/walking trail for use by the campus community.
Commissioning Mass by the Provincial, Fr. Thomas Greene, S.J. The campus community was joined by faith leaders and the Mobile community as Dr. Van Brunt was commissioned for service to the Spring Hill College community. Afterward, guests were treated to a coffee reception at Einstein's. In the afternoon, Dr. Van Brunt joined golfers on the greens for the Inaugural Golf Tournament. This special day concluded with a dinner reception, "An Evening on the Hill."
The Inauguration ceremony was held at the Arthur R. Outlaw Recreation Center where more than 600 guests attended. Participants presented Dr. Van Brunt with books as gifts of inspiration and wisdom. They included Bradley Byrne, President/CEO of the Mobile Area Chamber of Commerce, and Dr. Fred Pestello, President of St. Louis University, on behalf of the Association of Jesuit Colleges and Universities (AJCU). After the investiture and presentation, the Blow House Brass Band led the crowd to the cafeteria for a barbeque lunch. Mustache the Band performed Van Brunt's favorite  – country music.
Van Brunt brings more than 20 years of leadership experience in Catholic higher education. She has served as Provost, Vice President for Academic Affairs, and founding Academic Dean. Her strengths are in the areas of strategic planning, new program development and assessment, fundraising, and team building. She also spent twelve years in the banking, securities, and pharmaceutical industries.
She earned a Bachelor of Arts degree in Economics from Ursinus College in Collegeville, Pa., a Master of Business Administration in Accounting from St. Joseph's University in Philadelphia, Pa., and a PhD in Economics from Lehigh University in Bethlehem, Pa. In her spare time, Van Brunt enjoys swimming, kayaking, traveling abroad, and spending time with her six adult children, family, and friends. She relocated to Mobile with her husband Chris and their dog, Stella.
ABOUT SPRING HILL COLLEGE:
Founded in 1830, Spring Hill College is the oldest Catholic college in the Southeast and the third oldest Jesuit college in the United States. Spring Hill combines the Jesuit tradition of excellence in education and a commitment to caring for the whole person – mind, body, and spirit – with innovative educational experiences. Located in Mobile, Ala., Spring Hill's mission is to form leaders engaged in learning, faith, justice and service for life. As a result, Spring Hill students are engaged, inspired and transformed by their experiences.