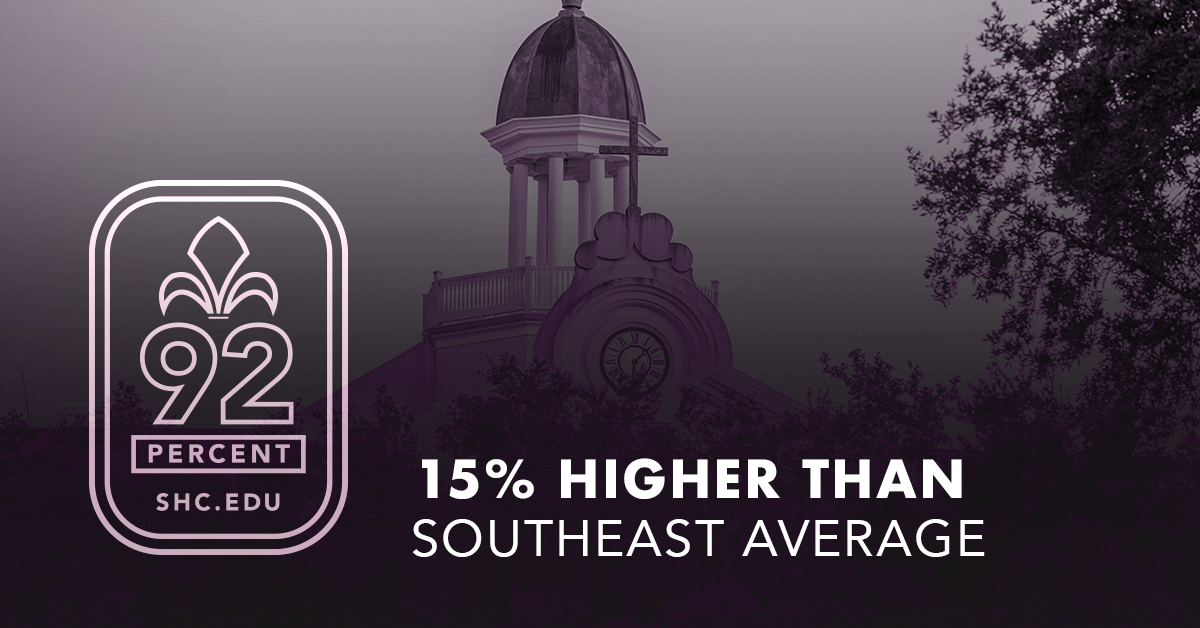 When students graduate from Spring Hill College, they have a remarkable opportunity to take their next big step, whether it's embarking on a new career or continuing their education toward a graduate degree.
In fact, students graduating from SHC outperform their peers when it comes to career outcomes based on available data from the National Association of Colleges and Employers (NACE). For the class of 2021, 92 percent of SHC graduates secured employment, continued their studies in graduate school or committed to volunteer service.
This rate is higher than the 2021 national average as determined by NACE, as well as 15 percentage points higher than the average for colleges and universities in the Southeast. Even more remarkable is that the percentage of students from that class still seeking is just 2 percent, compared to the national average of 17 percent and 10 percent for graduates from private colleges and universities.
"There are a lot of reasons for that," said Jordan Cockrell, the director of career services at the College, "but they start with faculty and staff who start preparing students for life after college even during their first year on The Hill."
SHC's Office of Career Services is focused on helping students explore, discern and engage in purposeful careers that meet their personal and professional needs as well as enabling them to serve others. Additionally, Cockrell and her team assist faculty with professional development programming and serve as liaisons between job seekers and employers.
"We know our students are passionate and want to do big things," Cockrell said. "Throughout their entire time at SHC, we are always looking for a way to help them identify and develop their passions, what their path is and how they can achieve their goals."
Cockrell makes it a point to open up students' perspectives and their minds to opportunities they may not have considered to ultimately achieve their goals.
"Whether a student wants to go to graduate school or pursue a career or a job, I always tell our students I am a dream editor, not a dream crusher," Cockrell said. "I am always here to help them figure out how to get from point A to point B."
Spring Hill uses Handshake career platform, which gives students access to more than 500,000 employers. They can look for internships, as well as full-time, part-time and virtual opportunities, as well as participate in employer events and communicate with students at different schools.
Additionally, the College uses the TypeFocus Career Aptitude Personality Type Test to identify majors and careers that align with each student's interests. From there, Cockrell can build a roadmap.
Her office also hosts regular workshops where students can work on resumes, cover letters and job interviews. Employers come to campus to meet students and prepare them with mock interviews and resume reviews. Career fairs are held throughout the year.
After graduation, Cockrell checks in on the new alumni after 30, 60 and 90 days. By then, she says, most are well on their way to their next chapter.
"We remind our students that they are graduating at the same time as everyone else, and that means these opportunities are competitive," Cockrell said. "But what sets our students apart from the rest is what they have done while here at Spring Hill. That's what makes the difference."
Learn more about how SHC prepares its students for the next step in their journeys.