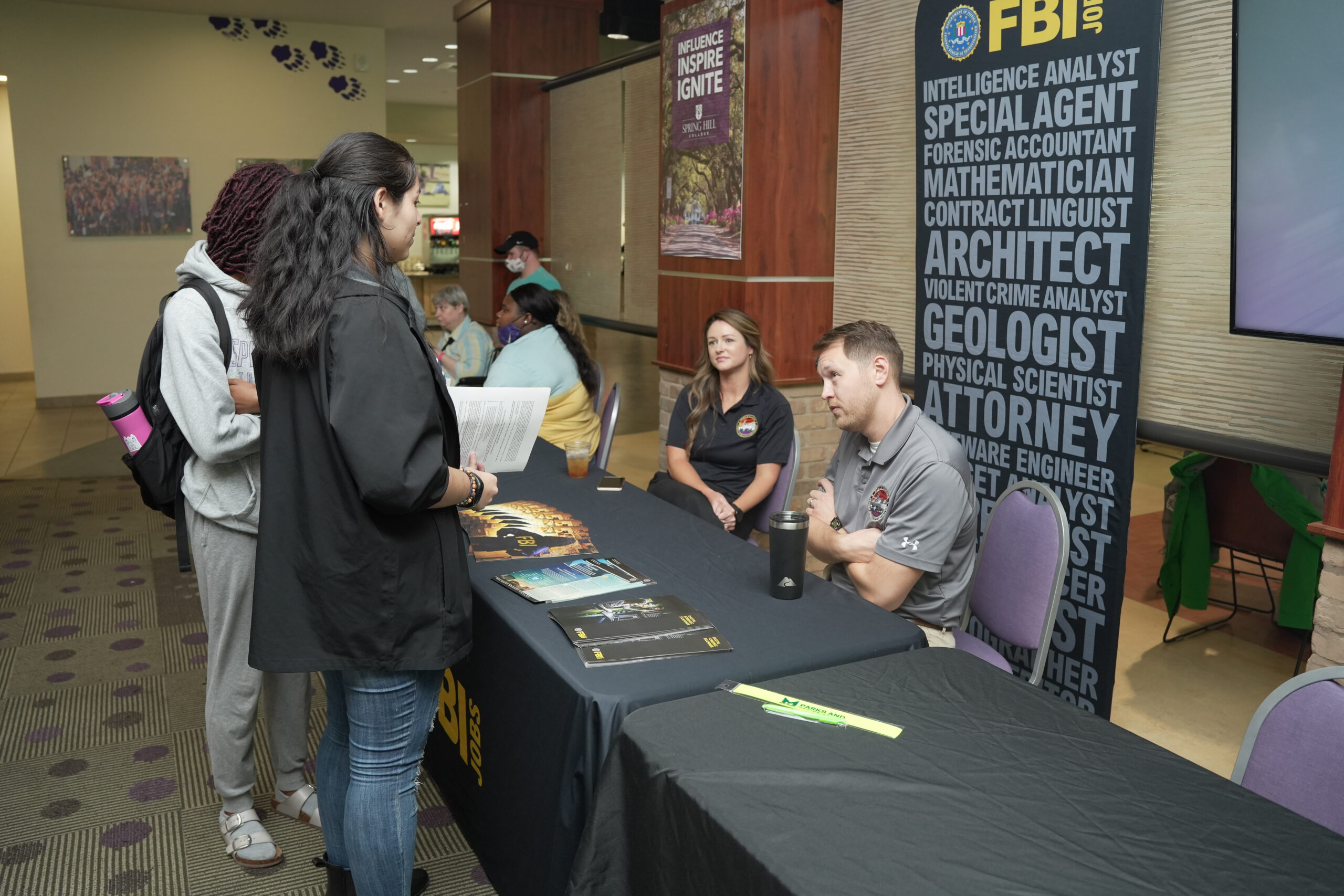 On the heels of commencement, recent grads are enjoying their summer and preparing for a future beyond The Hill. The odds of success are in their favor as recent studies show that students who graduate from Spring Hill College are ahead of their peers from other schools, thanks to a career outcome rate significantly higher than the national average. Coupled with SHC being one of the best colleges in the nation for return on investment, graduates from the College are in a position to succeed the day they receive their diploma.
The class of 2022 reported a success rate of 96% of those who graduated having secured employment or graduate school placement within six months. The Class of 2021 has experienced a 92% career outcome rate, with many students continuing their education and even more beginning their professional journeys. No matter what career they are entering, SHC graduates have been well prepared for the road ahead.
Riley Navarre, '19, majored in graphic design and minored in creative writing at SHC. She is now the assistant creative director at Ruby Media in Mobile.
"I think what really stands out to me about my education at Spring Hill is how incredible the faculty was," Riley said. "I have always loved and been good at school, but I had still never encountered a more supportive group of educators than the professors I had at Spring Hill. Regardless of the subject – and my own skill level therein – every professor I had at Spring Hill pushed me to be better and provided me with the resources to do so."
More than providing support, Riley credits faculty like an assistant professor of graphic design Rachael Hatley and Janden Richards, a professor emeritus who passed away earlier this year, for encouraging her to pursue her creative goals through graphic design.
Riley attributes SHC's liberal arts foundation to making her more well-rounded, as she now recognizes her abilities to switch contexts and work with clients across different industries.
"My biggest takeaway from my time at Spring Hill was learning that I could be successful at whatever I chose to do. Between the courses offered and the faculty at Spring Hill, I learned that there were a lot more doors open to me than I realized," Riley said. "Not to mention the fact that being able to write and communicate is a crucial skill across all fields, and I think Spring Hill makes it a priority to make sure that every student leaves with that ability, regardless of major."
Benedikt Kraemling, '21, is now a product management specialist for RBC Bearings, an international manufacturer and marketer of highly engineered bearings for global industrial, aerospace, and defense customers.
A native of Munich, Germany, Benedikt came to SHC with a soccer scholarship and graduated with a bachelor's of science in business administration, management, and marketing. He credits Spring Hill's curriculum for helping him to better understand business in the U.S.
"Many classes, especially my management and financial markets classes, helped me with a great basic knowledge of the U.S. economy," he said. "I enjoyed all of my classes and you learn something from each class that you can apply to your entry into the professional world.
"From shaping my personality to preparing me as a professional, the SHC experience helped me grow so much in just four years."
Brianna Reed, '21, also studied business management and marketing at SHC, and her degree and what she learned on the Hill help her daily as director of community education at Wilmer Hall Children's Home, which has been serving young people in need since 1864. Brianna's current position came as a result of her work-study job with the Foley Center. She built a working relationship with her site director at Wilmer Hall and a real connection with the kids, so when the director decided to leave, she offered her the position.
She has been able to apply a lot of experience she had in SHC organizations and lessons from the classroom to hit the ground running in her new career.
"Because of all the organizations I was a part of, and held leadership positions in, I was experienced in delegating tasks and had really honed in on my time management skills," she said. "I am able to use a lot of the tools that I learned in my social entrepreneurship class and management classes while leading my team and working with the specific group of the kids that we serve."
ABOUT SPRING HILL COLLEGE:
Founded in 1830, Spring Hill College is the oldest Catholic college in the Southeast and the third oldest Jesuit college in the United States. Spring Hill combines the Jesuit tradition of excellence in education and a commitment to caring for the whole person – mind, body and spirit – with innovative educational experiences. Located in Mobile, Ala., Spring Hill's mission is to form leaders engaged in learning, faith, justice and service for life. As a result, Spring Hill students are engaged, inspired and transformed by their experiences.