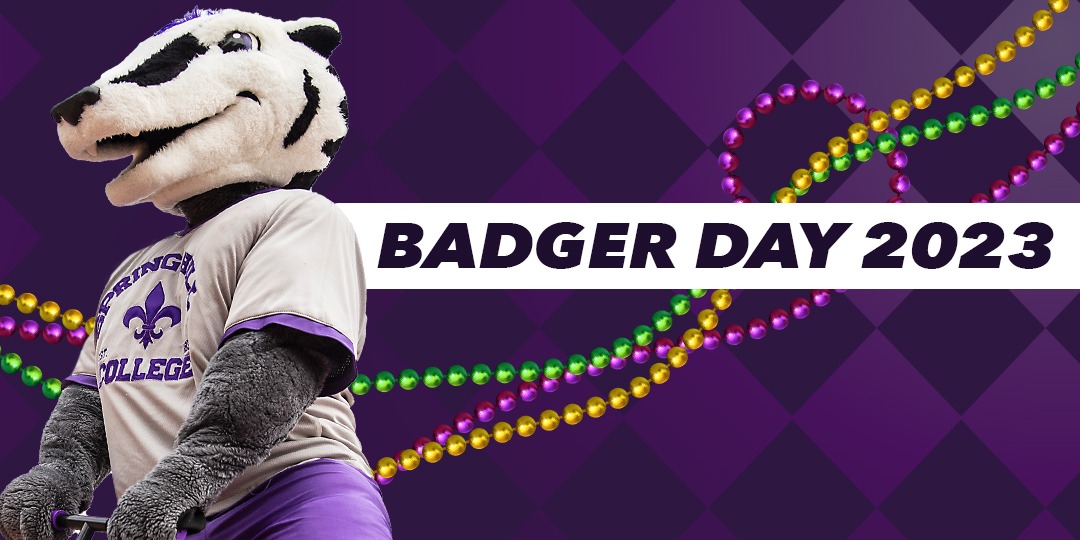 Spring Hill College Presents "Pardi Gras" at Badger Day 2023
(Mobile, Ala.) Spring Hill College presents "Pardi Gras" on the Hill welcoming prospective students and families to Badger Day 2023! The in-person event will be held on campus, Friday, Feb. 3, and Saturday, Feb. 4.
Attendees will meet faculty, staff, and current students. They will also explore the city of Mobile and experience one of Mobile's oldest traditions – a Mardi Gras parade!
This overnight experience will give students an opportunity to experience campus in a unique way by staying in one of the Residence Halls! Prospective students and their families will have a chance to learn about:
The inspiring benefits of a Jesuit, Catholic, liberal arts education.
The 52 different programs of study.
Our affordable tuition.
The ease of Admissions, Scholarships, and Financial Aid at Spring Hill.
The variety of student organizations and service opportunities.
Unique opportunities for internships and other professional studies.
The successes and influence of Spring Hill Alumni on the world around them.
Rapunizal Boykin, Assistant Director of Admissions said, "Badger Day is an opportunity for students to connect with other prospective students and see how they fit on campus. They will also celebrate one of our favorite traditions by attending a Mardi Gras parade. They will learn about what makes us unique! We are excited to see all of the students on campus."
Attendees will have a chance to meet with faculty and staff, learn about our impressive national, regional, and state rankings and learn about our new degree programs and top majors. Incoming Fall students who come to Badger Day can earn a $500 visit grant, renewable for up to $2,000 over four years. Register here:
ABOUT SPRING HILL COLLEGE:
Founded in 1830, Spring Hill College is the oldest Catholic college in the Southeast and the third oldest Jesuit college in the United States. Spring Hill combines the Jesuit tradition of excellence in education and a commitment to caring for the whole person – mind, body, and spirit – with innovative educational experiences. Located in Mobile, Ala., Spring Hill's mission is to form leaders engaged in learning, faith, justice and service for life. As a result, Spring Hill students are engaged, inspired and transformed by their experiences.